ILO-standard fishing vessel leaves for its maiden operation
One of the first Republic of China-flagged long-distance fishing vessels to comply with International Labour Organization (ILO) standards started its maiden voyage on Monday, leaving Pingtung County for a month-long operation in the Solomon Islands.
The Chien Yuan Ming No. 88 distant-water long-liner is one of the first vessels to be built in Taiwan following the Fisheries Agency's introduction of new regulations in November 2020 that make meeting ILO standard C188 a prerequisite for receiving a fishing license.
The crew, comprised of a Taiwanese captain, a Taiwanese chief engineer and 13 Indonesian crew members, would have an average of more than 1m2 of leisure space each, while the ceilings of the ship's walkways are 1.9m high, and allow for good ventilation and lighting.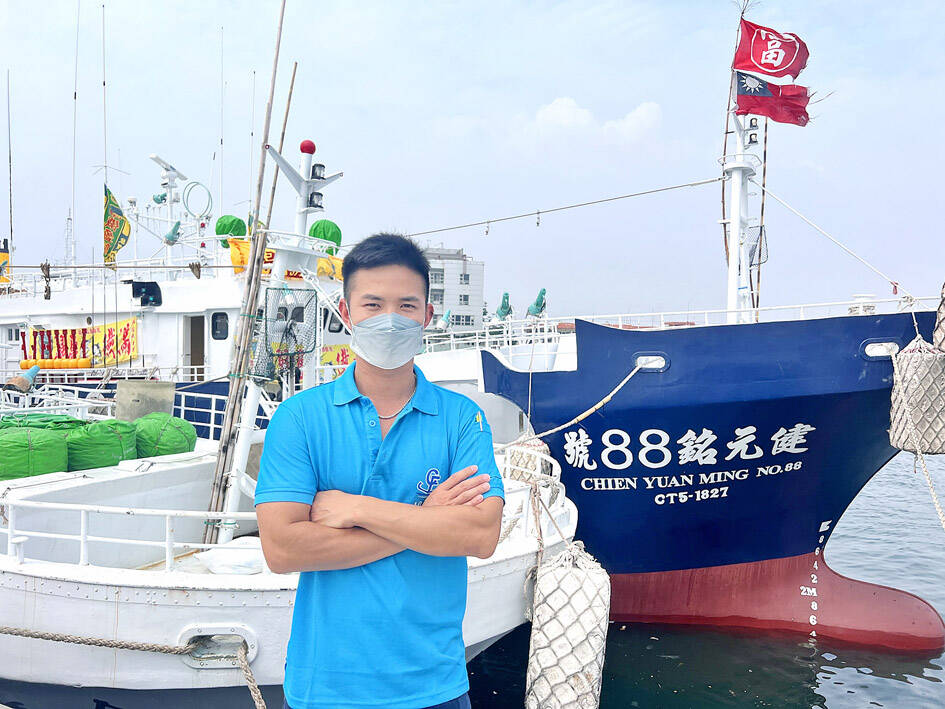 Long-distance fishing vessel Chien Yuan Ming No. 88 owner Tseng I-ting stands in front of the vessel as it is moored at a harbor in Pingtung County on Monday.
Photo: CNA
The crew members sleep in rooms for two or four people with bunk beds at least 1.9m long and 0.8m wide, as well as lockers and a folding table.
The vessel has air-conditioning, drinking water dispensers, refrigerators and three shower areas that provide hot water. It is equipped with surveillance cameras in shared areas and satellite Internet for crew members to keep in touch with their families.
Tseng I-ting (曾譯霆), the owner of the Chien Yuan Ming No. 88, said his vessel enables the crew to eat in an area separated from their work space and gives them more privacy at night.
Tseng said he built a fishing boat that met the highest international standards because he wanted Taiwan's fishing industry to be sustainable and internationally recognized.
The vessel began its first journey in Donggang Township (東港).
Taiwan's fishing industry has been subject to harsh criticism for its poor treatment of its workforce, which is made up mainly of migrant workers from Southeast Asia.
Taiwanese seafood products were included for the second consecutive time in the List of Goods Produced by Child Labor or Forced Labor published by the US Department of Labor last month.
The updated list maintained the forced labor designation that Taiwanese seafood first received in the report's previous edition in 2020.
Meanwhile, Allison Lee (李麗華), cofounder and secretary-general of the Yilan Migrant Fishermen Union, said that despite the fanfare around the new vessel, having only a few vessels that meet ILO C188 in Taiwan was not enough to help the welfare of migrant fishers.
Having vessels that meet the standards was the bare minimum, Lee said.
Asked if there were any other distant-water fishing vessels in Taiwan that also meet the standards, the agency said that 14 vessels have been approved for construction, including seven that have been licensed.
Taiwan has a distant-water fishing fleet of up to 1,100 vessels, employing about 20,000 migrant fishers, agency data showed.
Comments will be moderated. Keep comments relevant to the article. Remarks containing abusive and obscene language, personal attacks of any kind or promotion will be removed and the user banned. Final decision will be at the discretion of the Taipei Times.