Army ready for war after 'first strike': defense chief
SERIOUS ISSUE: If a Chinese UAV entered Taiwan airspace the military would first lock onto it as a warning and only later resort to a counterattack, Chiu Kuo-cheng said
The military would be prepared for war if it was forced to counter a "first strike" by the Chinese People's Liberation Army (PLA), Minister of National Defense Chiu Kuo-cheng (邱國正) said yesterday at the legislature.
Chinese Nationalist Party (KMT) Legislator Chiang Chi-chen (江啟臣) asked Chiu to elaborate on a comment he made on Tuesday that incursions by the PLA's uncrewed aerial vehicles (UAVs) into Taiwan's territorial airspace would now be considered a "first strike," necessitating countermeasures.
Chiang specifically asked what those countermeasures would be.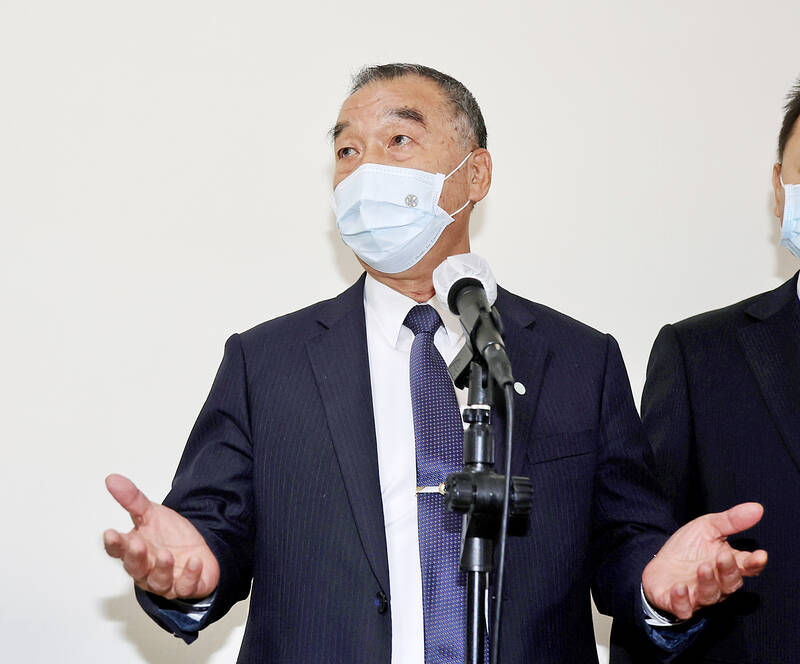 Minister of National Defense Chiu Kuo-cheng speaks at a news conference in Taipei yesterday.
Photo: CNA
The military would first lock onto intruding UAVs as a warning, which if not heeded would prompt a defensive "counterattack," Chiu said.
Asked by Chiang whether the counterattack would be aimed at repelling intruding PLA aircraft or preventing a "second strike," Chiu said: "I don't see it that way. After the first strike, we will be ready to respond to further attacks."
Chiang asked whether launching a counterattack against a first strike would mean the two sides were "going to war."
"Yes, in which case the situation would be very serious," Chiu said. "This is why the military has been exercising self-restraint and does not pull the trigger recklessly."
Chiu said during a legislative interpellation session on Wednesday last week that if the PLA flew aircraft into Taiwan's territorial airspace it would be deemed a first strike, prompting the military to launch "countermeasures."
On Tuesday, he said that in the past, a first strike was defined as an artillery attack, but since the Chinese Communist Party (CCP) has been changing its tactics by increasing the frequency of its drone incursions into Taiwan's territorial airspace, causing "a lot of trouble," such incursions would now also be defined as a first strike.
Comments will be moderated. Keep comments relevant to the article. Remarks containing abusive and obscene language, personal attacks of any kind or promotion will be removed and the user banned. Final decision will be at the discretion of the Taipei Times.