Japanese group pays tribute to Lee
A delegation of Japanese lawmakers yesterday visited the Wuchihshan Military Cemetery (五指山軍人公墓) in New Taipei City to pay tribute to former president Lee Teng-hui (李登輝).
The members of the Japanese House of Representatives and House of Councilors arrived in Taiwan on Saturday and are to attend the Double Ten National Day celebrations today.
Japanese House of Representatives member Keiji Furuya, chair of the Japan-ROC Diet Members' Consultative Council, said the delegation's visit to the cemetery is important, as Lee was not only Taiwan's "Mr Democracy," but also an important figure who has contributed to Taiwan-Japan relations.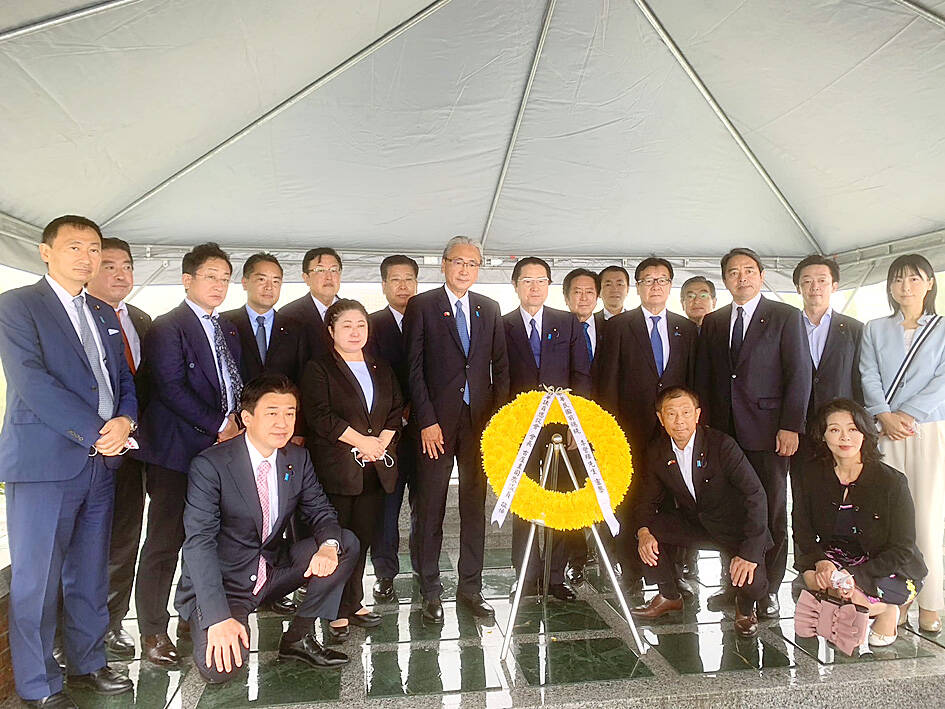 Japanese lawmakers pose for a picture after paying tribute to former president Lee Teng-hui at Wuchihshan Military Cemetery in New Taipei City yesterday.
Photo courtesy of the Lee Teng-hui Foundation
It was the first time many of the delegation have visited the cemetery, and they felt honored and excited, Furuya said.
As Lee Teng-hui Foundation chairperson Annie Lee (李安妮), Lee Teng-hui's daughter, was attending to her mother, Tseng Wen-hui (曾文惠), at home, foundation executive director Cheng Mu-chun (鄭睦群) greeted the delegation on her behalf and presented them with a letter from her.
Annie Lee in the letter expressed her gratitude to the delegation and apologized for not being able to accompany them.
She also expressed her thoughts about Double Ten National Day.
After World War II, Taiwan came under the Republic of China's (ROC) authoritarian rule, so National Day celebrations were not accepted by all Taiwanese in the past, as some viewed it as suppression, Annie Lee wrote.
After Taiwan went through democratization and localization, the ROC, which was once viewed by many as a foreign regime, became "Taiwan, ROC," and more Taiwanese have been celebrating National Day from the heart, she said, adding that the nation has been showing more solidarity.
"This is one of the most important contributions my father made in pushing forward Taiwan's democratization," she wrote. "So, Double Ten National Day celebrations, which seem to have nothing to do with Lee Teng-hui, actually entail an important meaning."
Legislative Speaker You Si-kun (游錫?) accompanied the delegation to Yilan County's Suao Township (蘇澳), where the group tried to spot Japan's Yonaguni Island in the distance.
You said the visit to Suao served to show Taiwan's close proximity to Japan.
People from both countries have long had friendly interactions, which is also testament to the close ties between Taiwan and Japan, he said.
You quoted Furuya as saying that their trip to Yilan to look for Yonaguni, which lies about 110km from Taiwan proper, also verifies former Japanese prime minister Shinzo Abe's remark that "a Taiwan emergency is a Japanese emergency."
Japan and Taiwan are "as close as lips and teeth," he said, adding that although delegation members could not see Yonaguni due to rain, they could "see it from their hearts."
Comments will be moderated. Keep comments relevant to the article. Remarks containing abusive and obscene language, personal attacks of any kind or promotion will be removed and the user banned. Final decision will be at the discretion of the Taipei Times.