Application to move TVBS News rejected by NCC
The National Communications Commission (NCC) yesterday rejected applications filed by eight cable service operators to move TVBS News from channel 55 to channel 149 or 158 on the grounds that the changes would conflict with the viewing habits of subscribers.
Applications for channel lineup changes were filed between late August and early last month by five cable service operators of Taiwan Broadcasting Communications and three of Dafong Cable Co after they failed to reach an agreement with TVBS News on content authorization fees.
Taiwan Broadcasting Communications proposed moving TVBS News to channel 158, while Dafong sought to move it to channel 149.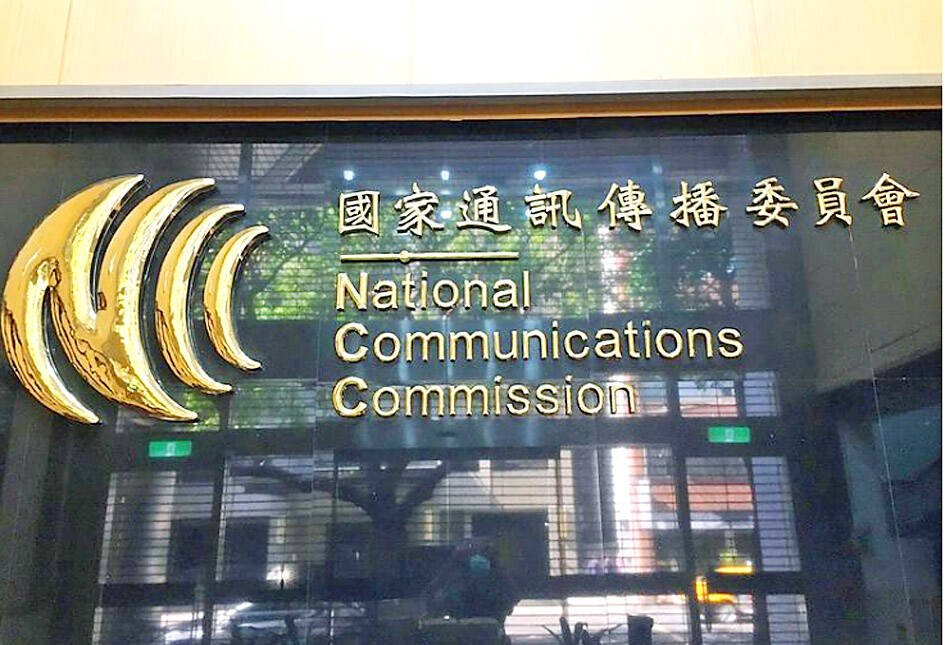 The name and logo of the National Communications Commission is pictured in Taipei in an undated photograph.
Photo: Yang Mien-chieh, Taipei Times
The two multiple system operators proposed to have Mirror News air on channel 55.
"TVBS News has been broadcasting for years on channel 55, which is part of the cable news block," the NCC said in a statement.
The news cable block comprises channels 49 to 58.
"Watching the channel has become a habit of consumers, and an important source of public information and current news events for them," the statement said.
"Applicants failed to offer ratings of Mirror News or other objective factors to justify a channel lineup change," it said, adding that "such a change would greatly affect consumers."
The commission said it consulted local government officials, with the Miaoli and Hsinchu county governments saying that TVBS News should remain on channel 55.
NCC Vice Chairman and spokesman Wong Po-tsung (翁柏宗) said that a subcommittee on Monday sent the issue to be deliberated at the weekly commissioners' meeting yesterday.
The commissioners rejected the applications after taking into account key factors in Article 29 of the Cable and Radio Act (有線廣播電視法), as well as opinions from stakeholders and local government officials, Wong said.
The key factors include whether changes to the channel lineup would facilitate or maintain a competitive market, protect consumers, ensure the diversity of televised content and uphold the public interest, he said.
In the past, the commission has spent a long time deliberating issues when cable systems apply for changes to the channel lineup.
Asked why the commission was able to make a decision about a month after receiving the applications, NCC officials said that each case is different and the commission sets no fixed timeline on when it issues rulings.
In other news, the commission extended deliberations over applications filed by 20 cable service operators to have CTS News and Info fill the vacant channel 52 after the channel was asked to provide more details on how it would increase its headcount.
The case is different from the TVBS News situation, as one is about cable operators proposing to have a news channel fill a vacant channel, while the other is about moving an existing channel and replacing it, Wong said.
CTS News and Info told the commission that it would increase its number of fulltime news editors from two to five, with their responsibilities to include double-checking breaking news and on-screen content, Wong said, adding that it would reinforce its crisis-management ability.
A report published by Public Television Service showed that CTS News and Info channel was last in the ratings among all of the cable news channels.
Comments will be moderated. Keep comments relevant to the article. Remarks containing abusive and obscene language, personal attacks of any kind or promotion will be removed and the user banned. Final decision will be at the discretion of the Taipei Times.