Village wardens handed awards for protecting animals
The Taiwan Animal Protection Monitor Network yesterday presented awards to five village wardens for their outstanding contributions to animal protection in honor of World Animal Day.
This year's awards went to Chien Chiao-heng (簡僑亨) of Wenqing Village (文青里) in Taoyuan's Gueishan District (龜山); Lin Yu-tsen (林宥岑) of Yixin Village (一新里) in Nantou County's Puli Township (埔里); Chang Ya-fang (張雅芳) of Guanglong Village (光隆里) in Taichung's Taiping District (太平); Liu Wen-pao (劉文寶) of Sanxie Village (三協里) in Kaohsiung's Qishan District (旗山); and Yang Hsiu-lan (楊秀蘭) of Gangkou Village (港口村) in Pingtung County's Manzhou Township (滿州).
Network chairman Wang Wei-chih (王唯治) said that many would think that "it is better not to intervene in conflicts between humans and dogs or conservation issues," as helping one side might displease the other, but seeing the achievements of these outstanding leaders "gives us confidence about Taiwan's animal protection and ecological conservation."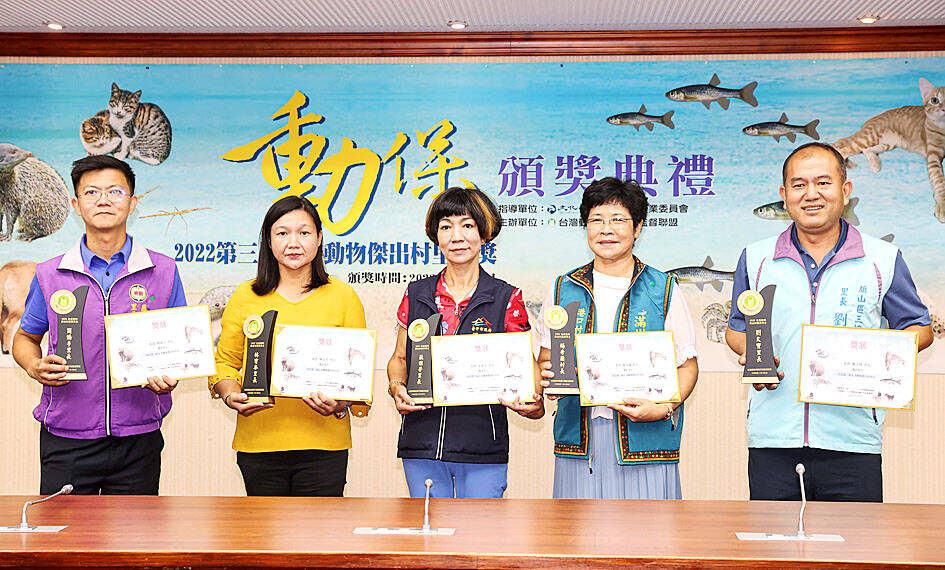 From left, village wardens Chien Chiao-heng, Lin Yu-tsen, Chang Ya-fang, Yang Hsiu-lan and Liu Wen-pao receive awards in Taipei yesterday.
Photo: CNA
Chien set up an "animal adoption platform" at his office to promote neutering, vaccinating and microchipping pets, the network said.
He led volunteers to rescue and feed injured stray animals, and advocated for enshrining legal protections for animals into the Constitution, it added.
Lin participated in the conservation of Moltrecht's minnow, a class 2 protected species endemic to Taiwan, even before she ran for village warden, the network said.
She created an environment for the fish to coexist with animals and plants through ratifying environmental conventions, conducting regular tests on water quality, setting up shelters for the fish, asking local farmers to cut down on the use of pesticides and joining the Green Conservation medals program, it said.
Chang replaced the use of rat poison with environmental cleaning and rat traps due to incidents of cats and dogs being accidentally poisoned, the network said.
After three years of hard work, she solved the environmental and safety problems caused by stray dogs and cats, it said, adding that she is now working with police departments to carry out a survey of pets.
While participating in a campaign against a planned industrial waste landfill on Kaohsiung's Matou Mountain (馬頭山), Liu realized that the area is home to protected species and called for the area to be designated a national nature park, the network said.
He recruited volunteers to patrol the mountains to look for poachers, rescue animals and set up ecological corridors for animals to cross roads, it said.
Yang protected land hermit crabs, planted thatch screwpines to create habitats for stick insects and grew nectar-producing plants to attract butterflies, the network said.
Her policies of promoting ecological tourism and education attracted young people back to the village and more than 10,000 people visit annually, it said.
Comments will be moderated. Keep comments relevant to the article. Remarks containing abusive and obscene language, personal attacks of any kind or promotion will be removed and the user banned. Final decision will be at the discretion of the Taipei Times.