Teacher honored for work promoting scouting education
An educator on Monday received the Ministry of Education's Excellent Teacher Award for her efforts to promote scouting education.
Taichung Fuchun Elementary School principal Lee Hsiu-ying (李秀櫻) told reporters before the award ceremony that she made scouting education a feature at the school following her experience during the 921 Earthquake.
The magnitude 7.3 earthquake struck central Taiwan on Sept. 21, 1999, claiming 2,456 lives and leaving 10,718 people injured.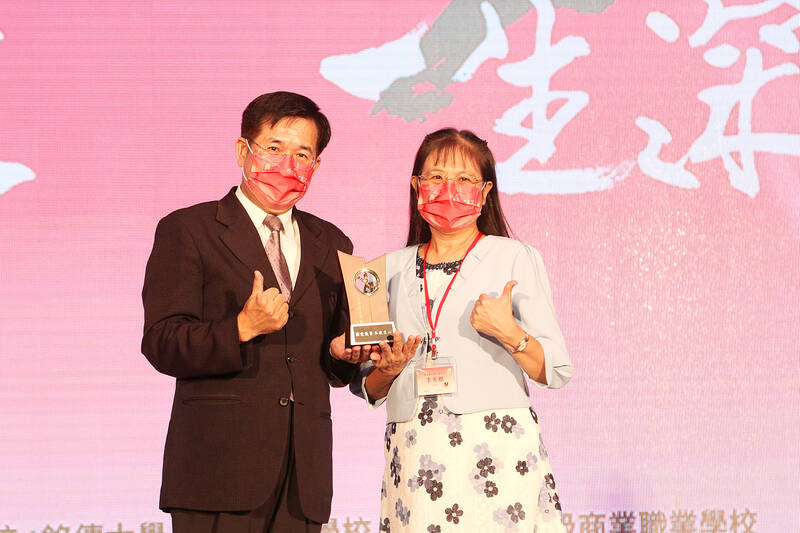 Elementary school teacher Lee Hsiu-ying, right, receives an award at the Ministry of Education's annual teacher and education award ceremony on Monday.
Photo: CNA
Lee and her family were in their apartment on the fifth floor of a high-rise building when the quake hit.
The front door to the apartment was jammed and the only way out was through the balcony, Lee said.
She secured a rope using a bowline knot, a technique she learned during scouting class, and she and her family rappelled down to safety, she said.
The experience made her realize the importance of scouting education, Lee said, adding that she has since made it a priority at her school.
Another award recipient was Chang Che-yi (張哲溢), who heads the office of academic affairs at an elementary school in Taoyuan.
Chang helped make a difference for a socially disadvantaged student, who used to struggle at school, the ministry said.
With Chang's help, the student joined a school wheelbarrow racing team and is now excelling in their studies, it added.
Addressing the award ceremony, President Tsai Ing-wen (蔡英文) said the COVID-19 pandemic over the past two years has posed great challenges to the education sector.
She thanked the nation's teachers for following the government's guidance on COVID-19 prevention and control.
Also speaking at the ceremony, Minister of Education Pan Wen-chung (潘文忠) said that the ministry has since 2017 spent NT$15 billion (US$470.65 million) to develop digital infrastructure through the government's Forward-looking Infrastructure Development Program.
As a result, students were able to continue their classes via remote learning during last year's school closures amid a local COVID-19 outbreak, he said.
Comments will be moderated. Keep comments relevant to the article. Remarks containing abusive and obscene language, personal attacks of any kind or promotion will be removed and the user banned. Final decision will be at the discretion of the Taipei Times.