NCC receives complaints over Chiang affair claim
'INNOCENT VICTIM': The NCC is investigating whether Formosa News failed to check the veracity of Clara Chou's claim of an affair between a politician and a beauty queen
The National Communications Commission (NCC) yesterday said that it has received 32 complaints about media personality Clara Chou (周玉蔻) after she made accusations about former Chinese Nationalist Party (KMT) vice chairman John Chiang (蔣孝嚴) in a political TV show aired by Formosa News.
Chou accused Chiang, the father of KMT Taipei Mayoral Candidate Chiang Wan-an (蔣萬安), of having had an extramarital affair with Miss Republic of China 1988 Chang Shu-chuang (張淑娟) about 20 years ago.
Chang on Monday filed an aggravated defamation lawsuit against Chou at the Taipei Prosecutors' Office. Chou appeared at the office at the same time, saying she wanted to apologize to Chang.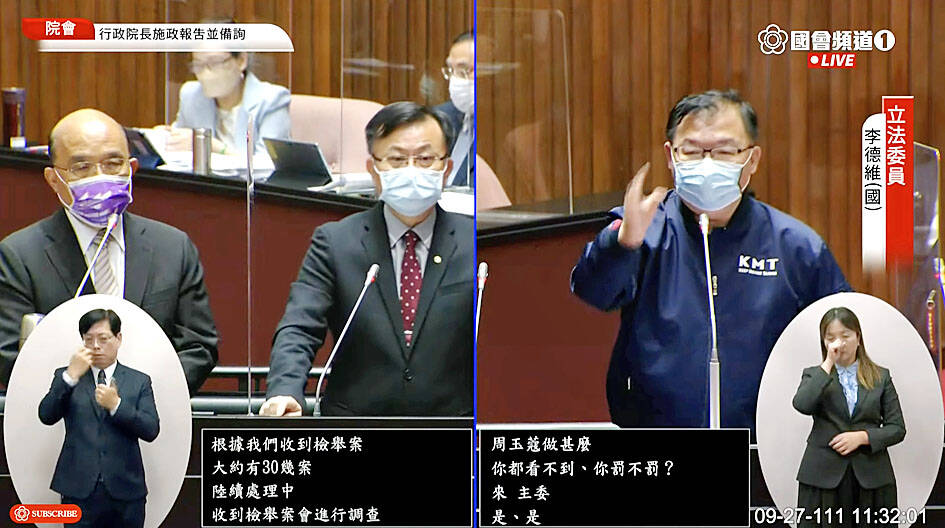 Chinese Nationalist Party (KMT) Legislator Lee De-wei, right on the podium, questions National Communications Commission (NCC) Chairman Chen Yaw-shyang, center, during a plenary session at the Legislative Yuan in Taipei yesterday.
Photo: Screengrab from Parliment TV
In a plenary session at the Legislative Yuan in Taipei yesterday, KMT Legislator Lee De-wei (李德維) asked NCC Chairman Chen Yaw-shyang (陳耀祥) whether the commission would hold Formosa News accountable for allowing Chou to "humiliate" Chang on the air.
"Taiwan is a free and democratic country, and we will not censor what a news channel should or should broadcast before the program is aired. However, we will review the aired content to determine if it contravened broadcast regulations," Chen said.
"We are investigating the complaints to determine if Formosa News failed to verify the authenticity of the content before it was aired and abide by the principle of fairness, as per Article 27 of the Satellite Broadcasting Act (衛星廣播電視法)," he said.
"We will also determine if the content disrupted public order and contravened other legal prohibitions," he added.
KMT Chairman Eric Chu (朱立倫) said in a campaign rally that the Democratic Progressive Party has been using the media and media personalities to attack the KMT.
"As politicians, we should endure these malicious attacks. However, Chang is an innocent victim of this attack," he said.
In other news, Premier Su Tseng-chang (蘇貞昌) told the plenary session that neither he nor President Tsai Ing-wen (蔡英文) had pressured the NCC to approve a broadcast license application by Mirror News.
Su made the remarks after New Power Party Chairwoman Chen Jiau-hua (陳椒華) played a conversation allegedly recorded during a shareholders' meeting on Dec. 17 last year, in which then-Mirror News chairman Pei Wei (裴偉) told shareholders that Su had met with Chen Yaw-shyang and former DPP secretary-general Hung Yao-fu (洪耀福) to talk about the Mirror News case.
Hung was entrusted to carry the message from the Presidential Office, Pei told shareholders.
Su told Chen Jiau-hua that his one-on-one conversation with Tsai has been polite and would not speak in a manner resembling that in the recorded conversation.
He also denied knowing Pei well, having called him in person or having received a phone call from Tsai about approving the Mirror News case.
Su said he was not sure if the voice in the recording belonged to Pei.
Chen Jiau-hua told a news conference in the afternoon that the voice belonged to Pei.
"I am willing to bet Su that it is Pei's voice and would have a third party authenticate the recorded conversation," she said. "I also urge Mirror News to file a lawsuit against me so that I can disclose the entire conversation and call all shareholders attending the meeting to the witness stand."
Comments will be moderated. Keep comments relevant to the article. Remarks containing abusive and obscene language, personal attacks of any kind or promotion will be removed and the user banned. Final decision will be at the discretion of the Taipei Times.