Operator confirms e-mail threat to bomb airport
ANTI-INDEPENDENCE: The e-mail demanding that Taiwan stop all activities advocating independence was traced to an offshore IP address, police said
Taoyuan International Airport Corp yesterday confirmed that it had received an e-mail threatening to bomb the airport if Taiwan did not cease activities advocating for independence.
An ad hoc team was formed to investigate as soon as the Aviation Police Bureau received the report from the airport operator, said Chuang Ying-shou (莊英壽), deputy head of the bureau's Criminal Investigation Squad.
"Our preliminary investigation showed that the e-mail was sent from an offshore IP address. Officers at our security patrol squad and security inspection squad have enhanced security inspection at Taiwan Taoyuan International Airport," Chuang said, adding that the bureau takes every statement threatening aviation safety seriously.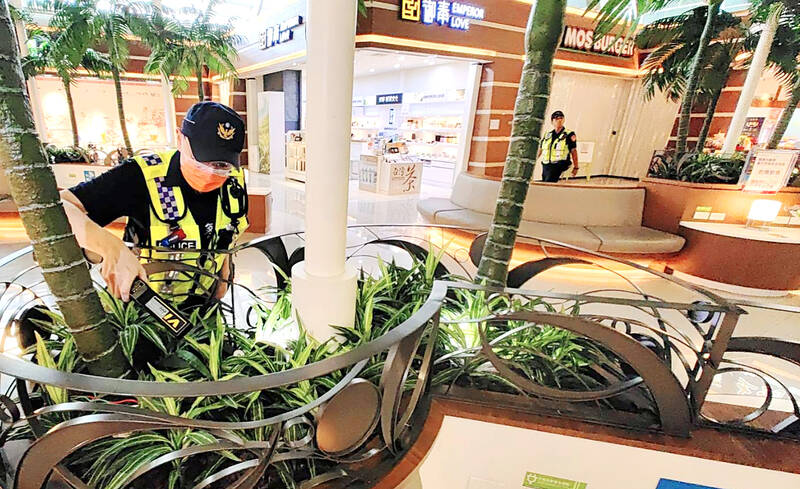 An aviation police officer uses a metal detector to look for explosive devices at Taiwan Taoyuan International Airport yesterday.
Photo: Yao Chieh-hsiu, Taipei Times
The operator said that the anonymous e-mail sender claimed that they had placed bombs at the airport and demanded that Taiwan stop all activities related to Taiwanese independence.
The e-mail, which was delivered to the airport's customer service inbox on Sunday, was not discovered by information technology specialists until yesterday, sources familiar with the matter said.
Prior to yesterday's incident, the airport operator had received an e-mail on Aug. 2 ahead of the visit by US House of Representatives Speaker Nancy Pelosi, the highest-ranking US official to visit Taiwan in 25 years.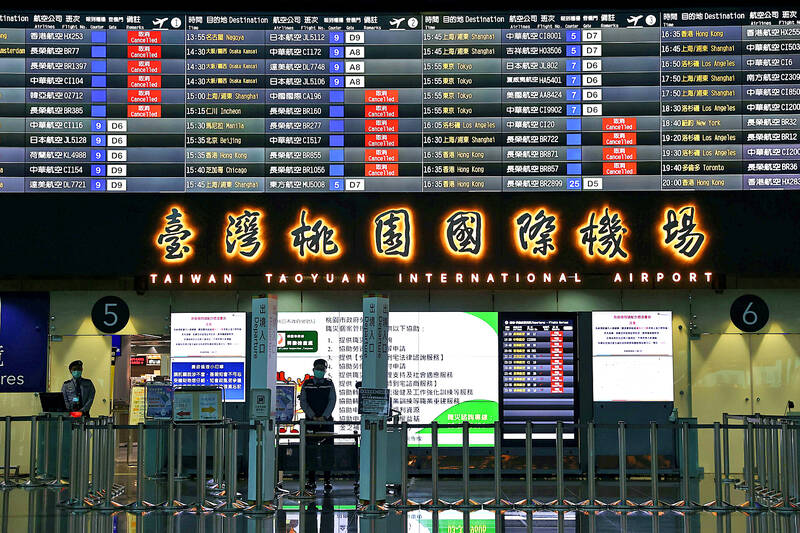 Security personnel stand guard in an empty departure hall at Taiwan Taoyuan International Airport in Taoyuan, Taiwan, January 7, 2021.
Photo: Ann Wang, Reuters
In the e-mail, the writer said that they had planted three explosive devices at Taiwan Taoyuan International Airport to prevent Pelosi's arrival.
The bureau traced the source of the e-mail to an offshore IP address as well.
The airport company yesterday said that it immediately informed the Aviation Police Bureau and other agencies about the threatening e-mail in accordance with standard operating procedures, adding that aviation police officers and airport security were asked to step up patrols.
Airport personnel were also asked to bolster security inspections, pay attention to suspicious people and unidentified items and report them immediately, it said.
Article 105 of the Civil Aviation Act (民用航空法) stipulates that "anyone disseminating false information such as to jeopardize flight safety shall be subject to imprisonment of up to three years, detention or a fine of up to NT$1 million [US$31,429]."
"They would be subject to imprisonment for three to 10 years if their actions consequently cause real danger to flight safety, or for more than 10 years to life imprisonment for causing damage to an aircraft or casualties," the article states.
Comments will be moderated. Keep comments relevant to the article. Remarks containing abusive and obscene language, personal attacks of any kind or promotion will be removed and the user banned. Final decision will be at the discretion of the Taipei Times.