Ann Kao draws ire with remarks
'ELITISM': Academic credentials should not be the basis for attacks on political opponents, a lawmaker said, decrying an 'outdated belief'
Taiwan People's Party (TPP) Legislator Ann Kao (高虹安), the party's Hsinchu mayoral candidate, yesterday drew criticism for remarks she made during a news conference the day before, at which she denied accusations that she used material for her doctoral thesis without proper citations, including work she had authored herself.
Kao, who holds a doctoral degree from the University of Cincinnati, touted her academic credentials, saying she is "not like someone attending night school at Chung Hua University, who then needed to attend National Taiwan University (NTU) to obtain a master's degree," an apparent reference to former Hsinchu mayor Lin Chih-chien (林智堅), whose master's degree from NTU was revoked over plagiarism of content for his thesis.
Kao's remarks were widely seen as belittling Hsinchu-based Chung Hua University as an inferior school to NTU — one of Taiwan's top schools, from which she holds a master's degree.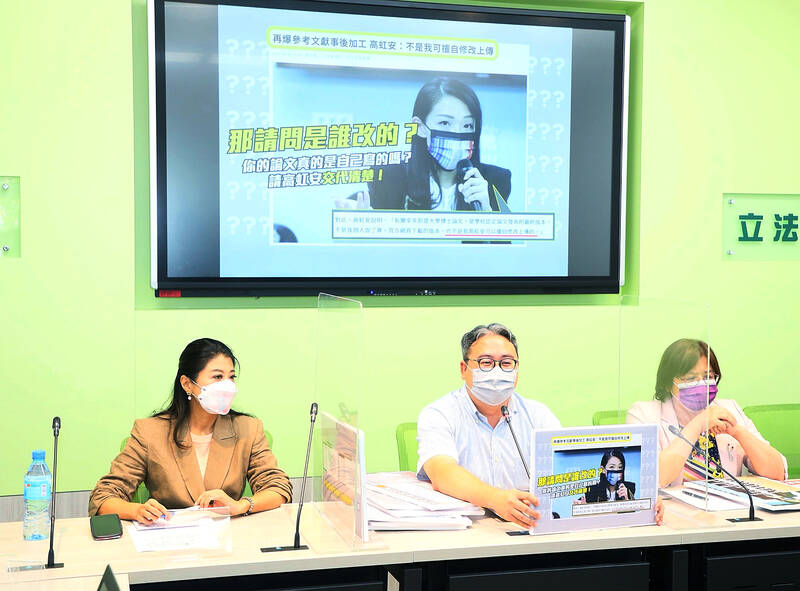 From left, Democratic Progressive Party legislators Michelle Lin, Huang Shih-chieh and Wu Yu-chin attend a news conference in Taipei yesterday.
Photo: CNA
Kao said she graduated from Taipei First Girls' High School and was admitted to NTU after scoring high in an entrance exam, before continuing her education in the US.
After her remarks were widely seen as elitist, she yesterday apologized to Chung Hua University.
"Voters in Hsinchu are to choose a mayor who will speak up for them," Democratic Progressive Party (DPP) spokeswoman Huang Tsai-ling (黃彩玲) said. "How can someone so arrogant serve the people and attend to their needs?"
DPP Hsinchu mayoral candidate Shen Hui-hung (沈慧虹) said Kao has hurt the feelings of Hsinchu residents by belittling the local university, calling her an "egocentric person."
"We know the TPP is good at idol-worshipping," Shen said, likening Kao's behavior to that of Taipei Mayor Ko Wen-je (柯文哲), the TPP's chairman.
New Power Party Legislator Claire Wang (王婉諭) said she is also proud of her academic achievements, "but I never viewed myself as better or smarter than other people... I was just more lucky than others."
She urged political candidates not to attack their opponents based on their academic credentials, as this would show that "an outdated belief of academic degrees being the most important" prevails in Taiwan.
"In past decades, many teenagers could not take university entrance exams, not because they were not smart, but because of their family background, she added.
Taipei City Councilor Miao Po-ya (苗博雅) of the Social Democratic Party said that Taiwan is "blind to academic elitism," calling it the "root of many conflicts in society."
"The government provides funding to top schools such as NTU, my own alma mater, while people from rural communities hardly have a chance to get into such top schools," she said, adding that without being from Taipei and having a middle-class background, she might also not have been admitted.
Comments will be moderated. Keep comments relevant to the article. Remarks containing abusive and obscene language, personal attacks of any kind or promotion will be removed and the user banned. Final decision will be at the discretion of the Taipei Times.