President pushes disaster resilience
The "necessary resources" to elevate Taiwan's resilience to natural disasters would be provided, President Tsai Ing-wen (蔡英文) said yesterday during a visit to observe a disaster response drill at a school in Hualien County.
Tsai made the promise, without providing details, while visiting National Hualien Special School, where faculty members and students simulated a response to a major earthquake as part of National Disaster Prevention Day drills.
National Disaster Prevention Day was first observed on Sept. 21, 2000, in commemoration of the 921 Earthquake a year earlier, which killed 2,456 people.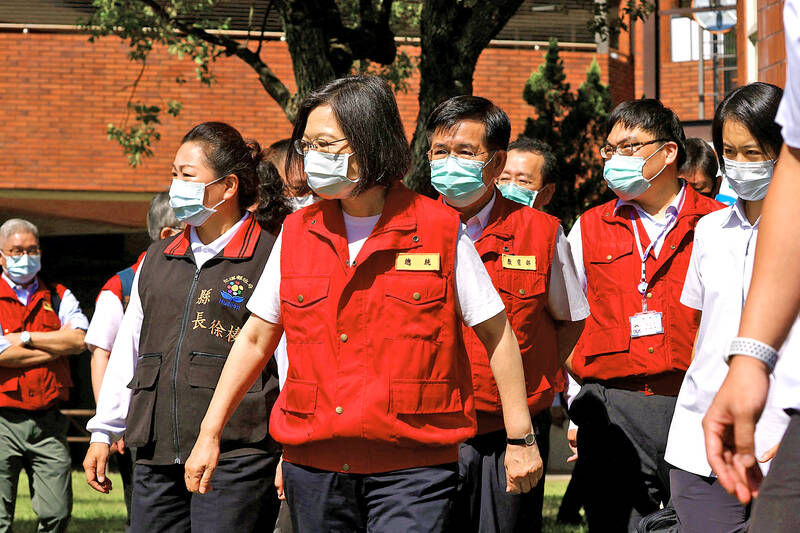 President Tsai Ing-wen visits National Hualien Special School during a disaster response drill yesterday.
Photo: Ann Wang, Reuters
Other drills in Hualien yesterday included simulated rescue and relief operations at a stadium, which Tsai also attended.
Quakes in the past few days have once again reminded people in Taiwan of the need to always stay vigilant and be prepared for emergency situations, she said.
Taiwanese should also brace for other challenges, Tsai said, adding that extreme climate has increased the risk of a compound disaster.
As the central and local governments continue to roll out policies to improve disaster response and management on school campuses, schoolteachers and students should work together to contribute to disaster prevention efforts, she said.
Earlier yesterday, Tsai visited the army's Huadong Defense Command in the city to express her gratitude for the deployment of soldiers to assist local governments in rescue operations after a large earthquake struck southeastern Taiwan on Sunday.
More than 160 earthquakes were recorded in Taitung County from Saturday to Tuesday morning, most of them centered in Chishang Township (池上), causing damage to buildings and other infrastructure.
The most powerful was a magnitude 6.8 temblor at 2:44pm on Sunday, which followed a magnitude 6.4 quake centered in Taitung's Guanshan Township (關山) on Saturday night, Central Weather Bureau data showed.
As of Tuesday morning, the quakes had claimed one life, while 168 people were injured, Central Emergency Operation Center data showed.
Tsai urged the military to make preparations to ensure swift mobilization for emergency situations, adding that disaster prevention and rescue efforts are as important as combat operations.
Comments will be moderated. Keep comments relevant to the article. Remarks containing abusive and obscene language, personal attacks of any kind or promotion will be removed and the user banned. Final decision will be at the discretion of the Taipei Times.