Crew of stranded cargo ship allowed to leave Taiwan
The crew of a seized cargo ship who have been stranded on board the vessel for more than six months would be allowed to leave Taiwan this week, the Maritime and Port Bureau said on Sunday.
The announcement came after the bureau on Sept. 8 applied with a local court to appoint a ship manager for the vessel.
The court on Tuesday last week ruled that the ship's Taiwanese contractor should appoint a manager within 10 days, after which the crew would be allowed to leave the country.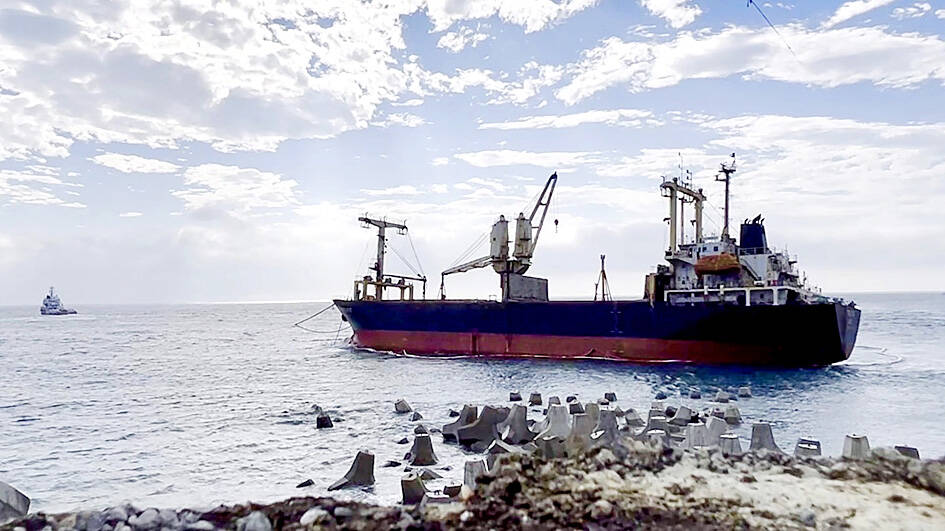 The Belize-registered Uniprofit is pictured off the coast of Taitung County on March 8.
Photo courtesy of the Maritime and Port Bureau under the Ministry of Transportation and Communications
The Belize-registered Uniprofit ran aground near Taitung County's Fugang Fishing Port (富岡漁港) on March 8 and was towed to Kaohsiung Harbor, where it has remained due to a debt the ship owner owes to a Taiwanese towing company.
The Kaohsiung District Court has approved an application by the contractor to provisionally seize the ship after its owner failed to pay the NT$20 million (US$637,959) refloating cost.
The ship's 16 crew members were not allowed to leave the vessel and their daily necessities had to be provided by ship chandlers.
The ship has also been banned from leaving Taiwan before a settlement is reached between the vessel's owner and the towing company.
Crew members have since June hung white banners from the vessel demanding the payment of unpaid wages and that they be allowed to return home.
On Saturday, the ship's Chinese captain, surnamed Yang (楊), disembarked with his luggage, reportedly after a quarrel with other crew members, but was detained by police.
The Kaohsiung District Prosecutors' Office ordered him to return to the vessel.
Four crew members are legally required to stay on board a ship subject to provisional seizure, with the remaining crew allowed to leave Taiwan within 24 hours.
However, the ship's 11 Chinese and five Indonesian crew members have been unable to decide who should remain on board.
Comments will be moderated. Keep comments relevant to the article. Remarks containing abusive and obscene language, personal attacks of any kind or promotion will be removed and the user banned. Final decision will be at the discretion of the Taipei Times.