No intervention in political shows: NCC
'UNFAIR FIGHT': Taipei mayoral candidate Su Huan-chih said TV networks were focusing only on the front-runners, ignoring other candidates in contravention of broadcast rules
The National Communications Commission (NCC) would not intervene in the production and planning of television news coverage of political candidates running in the nine-in-one local elections in November, NCC Vice Chairman Wong Po-tsung (翁柏宗) said yesterday.
Wong was responding to criticism from former Tainan County commissioner and Taiwan Renewal Party Taipei mayoral candidate Su Huan-chih (蘇煥智), who on Monday said that several TV networks were focusing only on the three major candidates in the Taipei mayoral election.
Su said he would sue the networks for contravening the Civil Servants Election and Recall Act (公職人員選舉罷免法), as well as the NCC for failing to supervise the stations.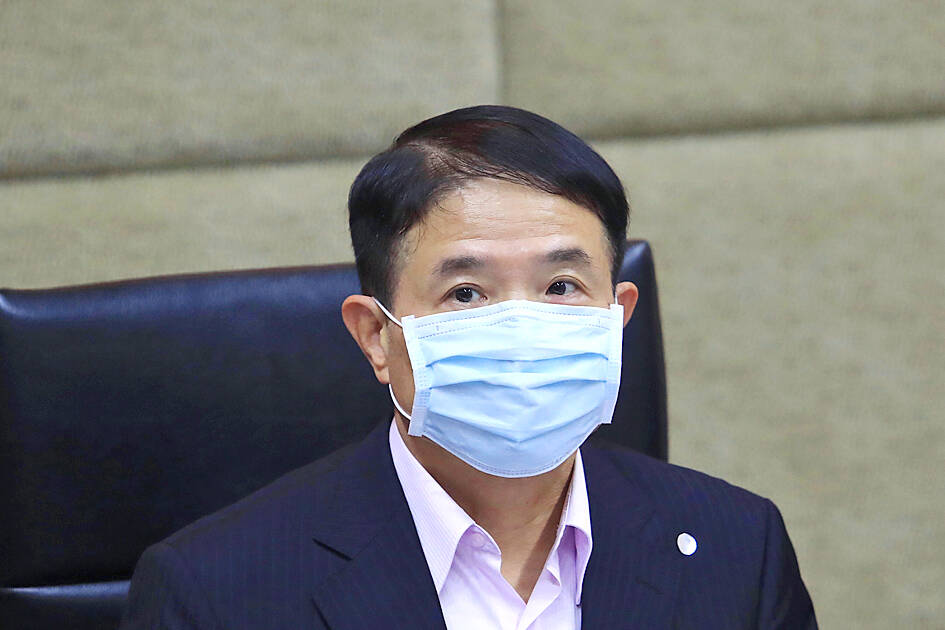 National Communications Commission Vice Chairman and spokesman Wong Po-tsung attends a news conference in Taipei on Nov. 4, 2020.
Photo: CNA
"While TV stations can produce and broadcast programs based on their own broadcasting guidelines and code of ethics, for mayoral elections, they should follow Article 49 of the act during the 15-day campaigning period leading up to the election," Su said. "We will work with the Central Election Commission to ensure that broadcast media comply with election regulations."
Under Article 49, TV stations are required to cover political candidates fairly. Broadcast media contravening the article are subject to a fine of between NT$200,000 and NT$2 million (US$6,433 and US$64,334).
Twelve candidates are running for Taipei mayor, with former minister of health and welfare Chen Shih-chung (陳時中) of the Democratic Progressive Party, Chinese Nationalist Party (KMT) Legislator Chiang Wan-an (蔣萬安) and independent candidate Vivian Huang (黃珊珊) among the front-runners.
Su said that Chinese Television System (CTS), Public Television Service, Formosa Television, TVBS and SET News had contravened Article 104 of the act, which prohibits spreading rumors or false information, or attempting to help a candidate win or lose an election.
He said he would today protest outside the CTS building and ask the network to invite him and all Taipei mayoral candidates to a debate.
"Formosa TV told me that it can only invite candidates from major political parties or those with high approval ratings to a televised debate due to the limited time and resources it has," he said. "However, it is only legal and reasonable if all candidates in the Taipei mayoral election are invited. Inviting all candidates to a debate is feasible, as evidenced by cases in other countries."
Neither poll results nor party affiliation should be used as justification for deciding which candidates to cover or who to invite for televised debates, he said, adding that it is the discriminatory practices of broadcast media that lead to discrepancies in approval ratings.
In addition to addressing the biases of TV networks, the NCC should quickly stipulate broadcast guidelines for campaign news coverage to ensure the fairness of the election.
Separately, Wong said that Huang's pledge to establish an online public policy discussion forum if elected could be unconstitutional if it uses a real-name system.
Huang said the online platform would allow Taipei residents to propose policies directly to the city government.
Using a real-name system would ensure that real people participate in discussions on issues facing the city, she said, adding that the forum would not collect personal data.
This helps foster an environment in which people are responsible for their own public statements, she said.
"I suggest that the candidate look at the example in South Korea, where a real-name system was ruled unconstitutional in August 2012," Wong said. "Adopting a real-name system in an online forum could impede freedom of speech, which was not won easily in Taiwan, and thus requires extensive discussion."
Comments will be moderated. Keep comments relevant to the article. Remarks containing abusive and obscene language, personal attacks of any kind or promotion will be removed and the user banned. Final decision will be at the discretion of the Taipei Times.