Experts urge CTiTV to drop Tsao lawsuits
'FREE SPEECH': Taiwan Forever Society's chairman said the suits are an 'abuse of democracy to subvert democracy, and an abuse of freedom to suppress freedom'
Legal experts yesterday urged CTiTV to drop lawsuits against tycoon Robert Tsao (曹興誠), who called it a "bandit network," saying that the phrase had legitimacy in the context.
CTiTV chairman Liao Li-sheng (廖麗生) on Monday filed two lawsuits against Tsao, the founder of United Microelectronics Corp, seeking NT$500 million (US$16.17 million) in a civil lawsuit and pressing a separate criminal defamation suit.
However, Taiwan Jury Association director Chen Wei-shyang (陳為祥) told a news conference at the legislature in Taipei that Tsao has freedom of speech rights, while courts have ruled that CTiTV has received financial support from the Chinese government.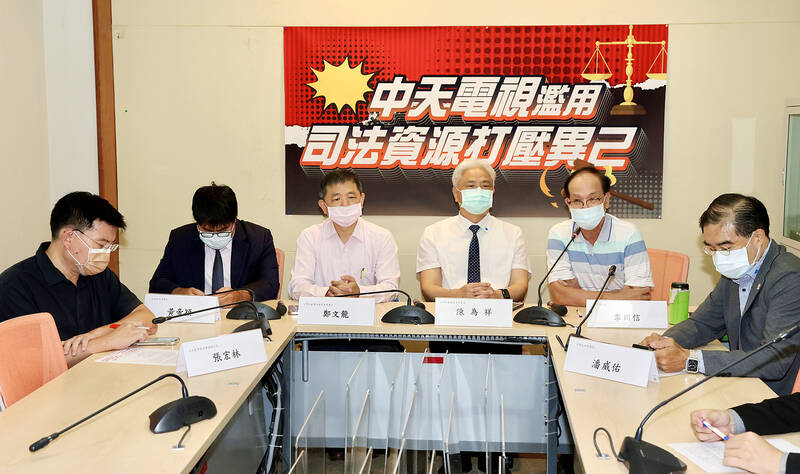 From left, Citizen Congress Watch director Chang Hung-lin, attorneys Huang Di-ying, Cheng Wen-lung and Chen Wei-hsiang, Taiwan Society director Lee Chuan-hsin and Taiwan Society secretary-general Pan Wei-yu attend a news conference in Taipei yesterday.
Photo: CNA
The association believes the TV network should drop the lawsuits, Chen said.
"Taiwan has media freedom, with journalists free to cover the news because we have a democratic society with the rule of law and good freedom of speech protections," he said. "CTiTV enjoys media freedom and free speech, but it is trying to restrict media freedom and free speech with the lawsuits."
The litigation is an "abuse of democracy to subvert democracy, and an abuse of freedom to suppress freedom," said Taiwan Forever Society chairman Huang Di-ying (黃帝穎), an attorney, adding that CTiTV is owned by Want Want China Times Media Group.
The description of CTiTV as a "bandit network" ("feitai, 匪台") is a reference to "communist bandits" ("gongfei, 共匪"), a phrase that has been used in Taiwanese politics, Huang said.
Although it is a bit caustic coming from Tsao, the phrase has a legitimate basis and has been used in media reports, he said.
Moreover, "the London-based Financial Times newspaper reported that China's Taiwan Affairs Office directly influences news articles published by firms controlled by Want Want China Times, prompting group chairman Tsai Eng-meng (蔡衍明) to file a lawsuit, which was later withdrawn," Huang said.
Hon Hai Precision Industry founder Terry Gou (郭台銘) during a public event in June 2019 had an angry exchange with a CTiTV journalist, Huang said.
Gou asked the journalist: "When will the Taiwan Affairs Office stop giving instructions to your boss?" adding that Tsai "is a henchman for the office, always pandering to it," Huang said.
"Gou accused media firms under Want Want China Times of working on behalf of the office, but no lawsuits were filed, so the courts are likely to rule that calling CTiTV a bandit network is based on factual information," Huang said.
The term "bandit" has legitimacy, as it is in some armed forces regulations, he said.
The armed forces' post office regulations stipulate that "military mail must not enter enemy territory, including communist bandit-controlled areas," he said.
Citizen Congress Watch director Chang Hung-lin (張宏林) said that CTiTV was trying to intimidate Taiwanese by showing that it would sue anyone who calls it a "bandit network."
Courts ruled in favor of former Democratic Progressive Party legislator Luo Wen-chia (羅文嘉) in two separate cases, the second in November last year, after Tsai filed a defamation lawsuit over a media interview in 2019.
Luo told reporters that "CTiTV received financial support from the Chinese government, so it can be considered 'red' media," Chang said.
Moreover, an investigation into the Luo cases, which included an examination of Want Want China Times' own accounting records, showed that it received NT$15.2 billion from the Chinese government in just over a decade before 2018, as well as payments of more than US$5 million for advertising and more than 1 million yuan (US$143,298) for rent to operate in Taiwan.
The judges ruled that there was no defamation by Luo, Chang said, adding that "Tsao's 'bandit network' comment is protected by his freedom of speech."
"He has his opinion, which can be a subject of public discussion," Chang said of Tsao. "CTiTV should drop the lawsuits, as its action infringes personal freedom, is a waste of judicial resources and is meant to suppress media freedom in Taiwan."
CTiTV said in a statement that its lawsuits were justified.
"Independence groups want to find a judicial back door," it said. "They use opposition to China as an excuse to maliciously slander others."
"This should not be permitted in a democratic, rule-of-law country like the Republic of China [ROC]," it said. "Pan-green groups are acting in a low manner in the name of resisting China and protecting the ROC."
Comments will be moderated. Keep comments relevant to the article. Remarks containing abusive and obscene language, personal attacks of any kind or promotion will be removed and the user banned. Final decision will be at the discretion of the Taipei Times.