Airport lacks UAV system: lawmaker
Taiwan Taoyuan International Airport has yet to install a defense system against uncrewed aerial vehicles (UAVs), even though it was granted funding for the project in 2019, Democratic Progressive Party (DPP) Legislator Lin Chun-hsien (林俊憲) said yesterday.
Concerns over drone incursions have risen after Chinese drones entered Taiwan's airspace over islets in Kinmen County in the past few weeks, prompting the military to use drone-jamming devices.
The Executive Yuan in 2019 approved a NT$195 million (US$6.34 million at the current exchange rate) budget to install UAV defense systems in airports nationwide, Lin said, adding that Taoyuan International Airport Corp (TIAC) was supposed to start the project the following year.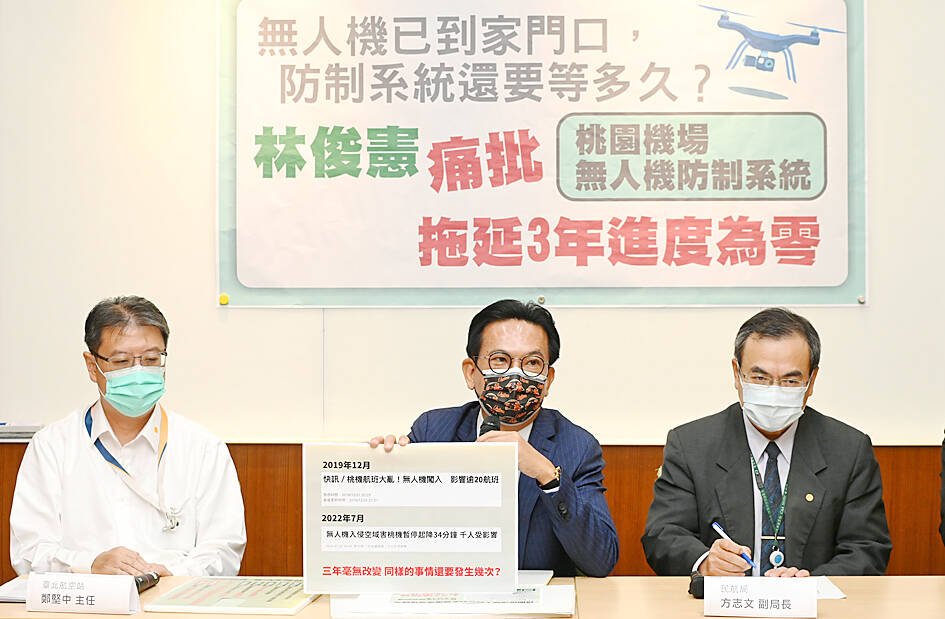 Democratic Progressive Party Legislator Lin Chun-hsien. center, speaks at a news conference in Taipei yesterday.
Photo: Tien Yu-hua, Taipei Times
In December 2020, the company in a letter to Lin's office wrote that the Chungshan Institute of Science and Technology would be tasked with building a defense system for the airport, he said.
However, his office was informed by the airport operator in September last year that it failed to sign a contract with the institute, Lin said.
"The institute told TIAC in July that it had no intention of taking over the project. This means the company has made practically zero progress since last year, putting the national gateway at risk," Lin told a news conference in Taipei.
While the airport operator has been using drone-jamming devices to repel drones near Taoyuan airport, the measure requires airport ground crew to spot them first, which is difficult at night, Lin said.
The measure cannot prevent drones from entering the airport's restricted airspace, he said.
By contrast, Taipei International Airport (Songshan airport) worked with the institute to launch a trial system in 2020, although it has not been tested using strict criteria, Lin said.
Fifty-nine tests are to be run through 2024 and the Taipei system would be tasked with detecting only one drone during each test, Lin said.
Whether the system can detect more than 100 drones at a time remains unknown, he said.
Each test would be given a perfect score of 15 points if the system can detect an intruding drone within one minute, a rather lenient standard compared with criteria used in other countries, Lin said.
Anti-drone systems in the UK, Germany, Israel, Thailand and Vietnam can simultaneously detect, identify and take control of more than 100 drones at a time, he said, adding that the systems can detect drones within seconds.
TIAC vice president Albert Lee (李俊德) said that drones have disrupted flight services at the airport seven times in the past three years.
Drones have so far this year interrupted airport operations three times, affecting 34 flights and more than 2,000 passengers, he said.
Defense against drones has evolved from a flight security issue to a national security issue, Lee said, adding that the company has been studying effective ways to deter drone intrusions.
"We have seen the results of the system used at Songshan airport. As Taoyuan airport is key national infrastructure, the procurement of an anti-drone system must proceed in accordance with the Government Procurement Act (政府採購法) and be approved by the Ministry of Transportation and Communications," Lee said.
"The institute also needs to secure approval from the Ministry of National Defense to accept the contract. These issues are now being sorted out at both ministries," he said.
Taipei International Airport Office director Chen Chien-chung (鄭堅中) said that the anti-drone system developed by the institute has been functioning well and detected 11 drones near the airport on New Year's Eve.
"We will work with the institute to upgrade the system," Cheng said.
Comments will be moderated. Keep comments relevant to the article. Remarks containing abusive and obscene language, personal attacks of any kind or promotion will be removed and the user banned. Final decision will be at the discretion of the Taipei Times.