Allegations of plagiarism hound Chang
Politicians across party lines yesterday called on Chinese Nationalist Party (KMT) Taoyuan mayoral candidate Simon Chang (張善政) to address allegations of plagiarism in a research project he headed while working at Acer Inc.
Chang allegedly plagiarized materials from various published articles, online sites and journals when he led a team undertaking a research project with a NT$57.36 million (US$1.88 million at the current exchange rate) grant from the Council of Agriculture (COA) from 2007 to 2009, according to news reports and information provided by lawmakers.
The report submitted to the council was a hodge-podge mix of plagiarized material, with many copied verbatim from other sources without providing citations, Democratic Progressive Party (DPP) Legislator Lo Chih-cheng (羅致政) said.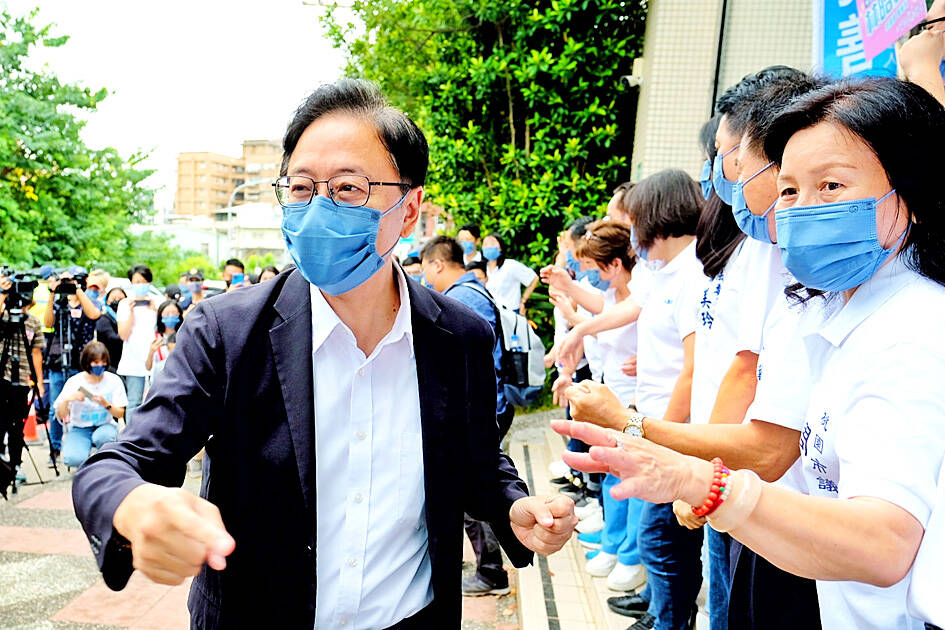 Chinese Nationalist Party (KMT) Taoyuan mayoral candidate Simon Chang speaks to city councilors outside the Taoyuan City Election Commission yesterday after registering his candidacy.
Photo: CNA
"It is shameful that Chang has not provided an explanation. When asked about it, his only answer was: 'You should go ask Acer.' He refuses to admit having committed plagiarism and has instead pushed Acer in front as a shield for him to hide behind," Lo said.
DPP lawmakers showed a list that includes 16 sources that Chang and his team had allegedly plagiarized, including online and published academic journals in Taiwan, China, the Netherlands and Hong Kong, Business Weekly magazine, news releases by the COA and other government agencies, and a master's thesis from a southern Taiwan university.
"Chang's transgression was more than just plagiarism," DPP Legislator Wang Ting-yu (王定宇) said. "He used this plagiarized report to secure NT$57.36 million from the government."
"Let me remind you what Chang said about the plagiarism allegations against former Hsinchu mayor Lin Chih-chien (林智堅)," Wang said.
Lin was the DPP's candidate for Taoyuan mayor, but quit the race amid allegations that he had plagiarized his master's theses at two universities.
"Chang said at the time: 'A person who has lost their integrity should drop out of the race.' However, Chang seems to have forgotten" what he said, Wang said.
"We have also seen how KMT, pro-KMT media outlets, and blue-camp politicians and academics went all out in attacking Lin," and how Chang is "so tolerant and forgiving of his own violations," he added.
Chang's lawyer and campaign officials filed a judicial complaint at the Taoyuan District Prosecutors' Office calling for an investigation into breaches of election laws, and accusing DPP Taoyuan mayoral candidate Cheng Yun-peng (鄭運鵬) and several DPP members of defamation.
Separately, Taiwan People's Party (TPP) Taoyuan mayoral candidate Lai Hsiang-ling (賴香伶) said that "Chang was the project's principal investigator, so he has the responsibility to explain the plagiarism allegations, and how the funds were spent on this project... He has not done so, and Taoyuan residents have doubts about trusting him to head the city government."
Meanwhile, New Power Party Legislator Chiu Hsiang-chih (邱顯智) said that Chang's campaign team is a "criminal ring" (犯罪集團), as more than half of them — seven out of the 13 appointed heads of Taoyuan electorate constituencies — had run afoul of the law in the past.
"Members of Chang's team were convicted and sentenced to jail, or found guilty, but placed on probation or given suspended sentences. More than half of them were convicted of vote-buying, intimidation, threatening violence, tax evasion and other criminal offenses," Chiu said.
This shows the return of "black gold" politics — the KMT's links to gangsters and corrupt politicians, he added.
Voters must keep in mind that if Chang gets elected, these people would be taking key roles in city administration, he said.
Comments will be moderated. Keep comments relevant to the article. Remarks containing abusive and obscene language, personal attacks of any kind or promotion will be removed and the user banned. Final decision will be at the discretion of the Taipei Times.