Halt Hon Hai's China purchase: group
'FINE NEEDED': Hon Hai did not gain approval before investing in Tsinghua Unigroup, which competes with Taiwan's chip industry, the Economic Democracy Union said
The Economic Democracy Union yesterday called on the Ministry of Economic Affairs to fine Hon Hai Precision Industry Co (鴻海精密) and reject its investment in a Chinese state-backed chip company.
Hon Hai, which is known as Foxconn globally, last month announced a 5.38 billion yuan (US$778 million) investment in China's Tsinghua Unigroup (紫光集團) by its subsidiary, Foxconn Industrial Internet Co Ltd (富士康工業互聯網), through several smaller investments in Chinese companies.
The company did not obtain prior regulatory approval in Taiwan for the purchase, leading to calls for punishment and greater scrutiny.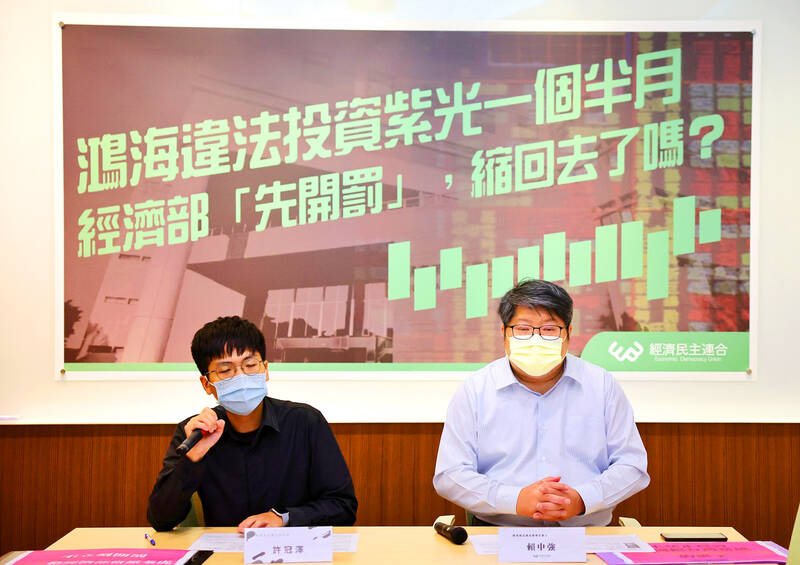 Economic Democracy Union researcher Hsu Kuan-tze, left, and union convener Lai Chung-chiang attend a news conference in Taipei yesterday.
Photo: CNA
The ministry's Investment Commission said at the time that it was reviewing the application and might fine the company for failing to apply for approval in advance.
A month and a half has passed, and the ministry has yet to issue any fines, the union told a news conference at the Legislative Yuan in Taipei.
"Does the state's power retract when it encounters a large conglomerate?" union researcher Hsu Kuan-tze (許冠澤) asked.
The commission mandates that investments in China involving chip design or other sensitive industries in excess of US$50 million must first obtain regulatory approval, meaning that this case clearly warrants a fine, Hsu said.
Hon Hai's claim that the investment does not involve any chip fabs due to Tsinghua's new corporate structure is a smokescreen, Hsu said.
The semiconductor industry is not just about making chips, but involves the entire process from design to packaging and testing, he said, adding that no matter Tsinghua's structure, as long as it is part of the supply chain, it is a chipmaker.
The Chinese-language Economic Daily News reported that hundreds of companies were included in the information Hon Hai submitted to the commission about its investment, Hsu said.
A separate investigation by Business Today in 2020 found that three of Tsinghua's top five businesses were chip design, manufacturing and packaging/testing, he said, adding that it is in direct competition with Taiwan's chip industry.
Union convener Lai Chung-chiang (賴中強) criticized the timing of the purchase, as the US is aiming to bolster its chip industry to compete against China.
Under the US' CHIPS and Science Act signed into law earlier this month, companies that receive subsidies from Washington to support semiconductor manufacturing are barred from signing any "major deals" to expand production in China for 10 years, Lai said, calling Hon Hai's investment a pawn in China's effort to break through the US technological barricade.
Through the firm's other ventures, Hon Hai engineers would learn from close cooperation with the US, but if the company also works with Tsinghua, these trade secrets could feasibly be passed along to China, he said, recommending that the ministry reject the investment.
Comments will be moderated. Keep comments relevant to the article. Remarks containing abusive and obscene language, personal attacks of any kind or promotion will be removed and the user banned. Final decision will be at the discretion of the Taipei Times.