Tang winner urges better China work by experts
Former University of Hong Kong president Wang Gungwu (王賡武), who won this year's Tang Prize for Sinology, has called for greater responsibility among international Sinologists to facilitate cultural understanding between Chinese-speaking and Western nations.
Sinology has become more diverse due to the rise of China, Wang said at the Tang Prize Master's Forum on Tuesday last week via videoconferencing from Singapore.
Academic studies could be misused either as a weapon for self-defense or intellectual offense, he said.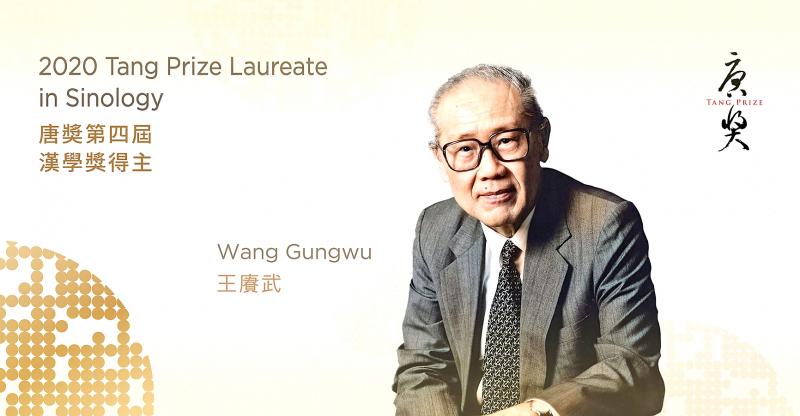 Former University of Hong Kong president Wang Gungwu, this year's Tang Prize winner in Sinology, poses in an undated photograph.
Photo courtesy of Tang Prize Foundation
Originally an extension of Oriental studies, which mainly served the needs of European powers, Sinology has evolved to cover subjects such as contemporary China and social sciences, he said.
"A strong and ambitious China is now seen by the global superpower — the US — as a threat to its supremacy," the 89-year-old said.
Wang, an Australian, in June won the prize for his research on the "Chinese world order," the Chinese diaspora and its migration experience.
It is important for Sinologists to work together in this sensitive field of study, Wang said, adding that it can be difficult to defend the integrity of the profession when conflict arises.
Academics should capitalize on globalization, as it increases people's capacity to understand themselves, he said.
Wang enjoys a unique vantage point that affords distinctive insights into Chinese history, as he was born in Indonesia, and educated in British-ruled Malaysia and London, the Tang Prize Foundation said.
Wang — who graduated from what was then the School of Oriental and African Studies at the University of London and pursued an academic career in Malaysia, Australia, Hong Kong and Singapore — is an expert in the interpretation of China's view on the world, the foundation said.
Comments will be moderated. Keep comments relevant to the article. Remarks containing abusive and obscene language, personal attacks of any kind or promotion will be removed and the user banned. Final decision will be at the discretion of the Taipei Times.