NPP seeks rule changes on pork
RACTOPAMINE: The KMT called on the president to apologize for flip-flopping on the US pork issue and demanded that she explain why she decided to lift the ban
The New Power Party (NPP) yesterday proposed amendments to two laws that would require a mandatory 60-day notification before the government announces a new executive order, and that there should be zero traces of the feed additive ractopamine in the offal, brains and spinal cords of local or imported pork products.
Speaking at a news conference in Taipei, NPP caucus whip Chiu Hsien-chih (邱顯智) said that the Ministry of Health and Welfare and the Council of Agriculture gave only a seven-day notice before announcing legal amendments to allow the imports of certain US pork and beef products.
The short notice completely undermines the spirit of the Administrative Procedure Act (行政程序法) and circumvents legislative oversight, leaving no time for stakeholders and the public to voice their opinion on the issue, the party said.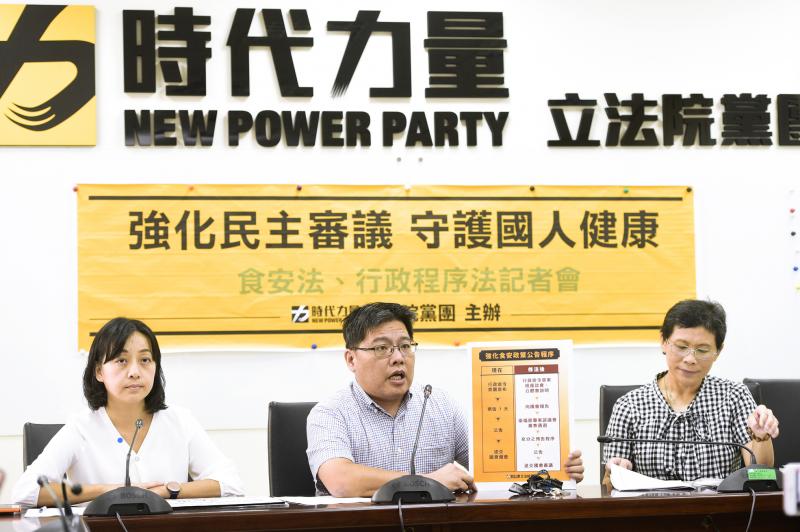 New Power Party caucus whip Chiu Hsien-chih, center, flanked by NPP legislators Claire Wang, left, Chen Jiau-hua, right, hold a news conference in Taipei yesterday.
Photo: George Tsorng, Taipei Times
Beef from cattle older than 30 months and pork containing residues of the leanness-enhancing additive are to be allowed to enter Taiwan starting on Jan. 1 next year, after President Tsai Ing-wen (蔡英文) on Aug. 28 announced an executive order easing the nation's import ban.
The NPP's proposed changes would require a notification period of at least 60 days prior to the announcement of an executive order, allowing concerned parties to have time to hold public hearings or lectures to express their opinions, Chiu said.
Government agencies could also use the time to address public concerns by presenting evaluation reports before forwarding the new executive order to the Legislative Yuan for further review, he said.
Chinese Nationalist Party (KMT) lawmakers, sitting in chairs, wait in line yesterday in the Legislative Yuan compound below a banner that reads: "Opposed to pork containing ractopamine, safeguarding health."
Photo: George Tsorng, Taipei Times
The proposed amendment would allow for a shorter notice in exceptional cases, but on the condition that concrete reasons are provided, he added.
Although the NPP understands that deepening trade ties with the US is important, it believes that the process can be more democratic and should better suit the dietary habits of Taiwanese, NPP Legislator Claire Wang (王婉諭) said.
The NPP caucus would also propose an amendment to the Act Governing Food Safety and Sanitation (食品安全衛生管理法) requiring zero traces of ractopamine in offal, brains and spinal cords of local or imported pork products.
The NPP made the appeal after the ministry on Sept. 5 announced that the maximum residue limits for pork containing ractopamine are 0.04 parts per million (ppm) for liver and kidneys, and 0.01ppm for all other parts of the animal.
The amendment would also specify locations banned from providing pork products containing ractopamine, including military camps, schools and social welfare groups, Wang said.
Besides labels showing the country of origin of a pork product, the government should also introduce clear labeling for pork products not containing ractopamine to better inform customers, NPP Legislator Chen Jiau-hua (陳椒華) said, citing Canada as an example, which introduced such labels this year.
A public online platform should be established to record breaches of food safety regulations committed by companies, as part of efforts to bolster public supervision, she said.
In related news, the Chinese Nationalist Party (KMT) yesterday demanded that Tsai and Premier Su Tseng-chang (蘇貞昌) apologize for flip-flopping on the US pork issue, and that Tsai should properly explain her decision to lift the import ban.
During the administration of former president Ma Ying-jeou (馬英九), Tsai and Su strongly opposed the import of US pork containing ractopamine, describing it as "poisonous" and said it would severely harm the local hog farming industry, KMT caucus whip Lin Wei-chou (林為洲) said.
Tsai and Su changing their minds now proves that they were wrong in making those accusations, he added.
Tsai should come to the Legislative Yuan and provide a full explanation on the matter, he said.
Additional reporting by Chen yun
Comments will be moderated. Keep comments relevant to the article. Remarks containing abusive and obscene language, personal attacks of any kind or promotion will be removed and the user banned. Final decision will be at the discretion of the Taipei Times.