New Southbound Policy: Partnerships build health connections
HEALTH AND TECHNOLOGY: Eight Taiwanese hospitals are working in seven nations; offering training, promoting supply chains and building disease-prevention networks
In March, the Ministry of Health and Welfare's (MOHW) One Country, One Center program gained its seventh member, Myanmar, less than a year after the program's launch in June last year.
Under the project, eight Taiwanese medical centers have formed seven medical teams to act as the main coordinators in each assigned partner nation to help integrate local resources, and deepen medical and healthcare cooperation.
"The program has been lauded in the medical field both domestically and internationally," Deputy Minister of Health and Welfare Ho Chi-kung (何啟功) said. "That is why we expanded it to seven countries, because we have proven that this program is the right step for Taiwan and its partner countries."
Taiwanese and Vietnamese medical professionals and public health officials pose for a group photograph on May 13, the first day of a Tuberculosis Control and Prevention Workshop in Taipei hosted by the Centers for Disease Control under the New Southbound Policy.
Photo: CNA
In a bid to ramp up international collaboration in innovative industries, one of the New Southbound Policy's five flagship projects is aimed at promoting medical and public health cooperation as well as the development of industrial supply-chain links with partner nations in South and Southeast Asia.
The project aims to leverage Taiwan's soft power in healthcare and form stronger ties with New Southbound Policy partners by expanding bilateral and regional collaborations, including offering professional training programs, promoting pharmaceutical and health-related industrial supply chains, building a regional disease prevention network, and working toward regulatory harmonization and standardized inspection techniques.
Taiwan's medical industry is known not just for its quality and affordable medical care and related products, but also for integrating its cutting-edge information technology capacity with innovative medical management to establish a wide array of smart health solutions.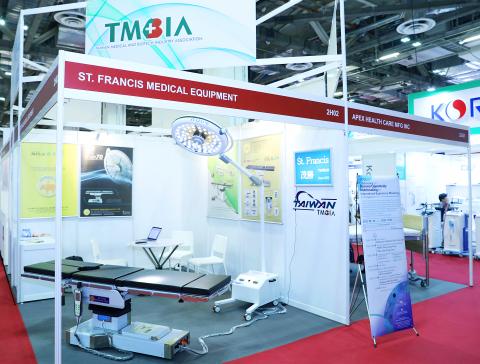 Taiwanese medical equipment manufacturers display their wares at the Medical Fair Asia in Singapore on Aug. 29 last year.
Photo: CNA
After launching the One Country, One Center program, the ministry commissioned the Chung-Hua Institution for Economic Research (中華經濟研究院) and other think tanks to establish the Health and Welfare New Southbound Policy Project Office to assist in coordinating efforts.
The initial hospitals and their six assigned nations are: National Taiwan University Hospital, serving Indonesia; National Cheng Kung University Hospital, serving India; Changhua Christian Hospital, serving Thailand; Chang Gung Memorial Hospital, serving Malaysia; Hualien Tzu Chi Hospital, serving the Philippines; and Veterans General Hospital and National Yang-Ming University, serving Vietnam.
Shinkong Wu Ho-su Memorial Hospital has been added to take charge of the work in Myanmar.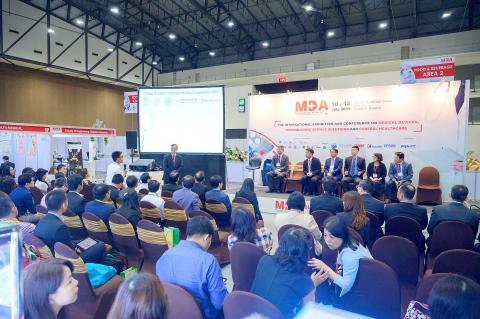 Changhua Christian Hospital, which is cooperating with Thailand under the New Southbound Policy's One Country, One Center program, hosts a presentation at the Medical Devices ASEAN exhibition in Bangkok, which took place from July 10 to 12.
Photo: CNA
In April, hospital director Hou Sheng-mao (侯勝茂) led a team on a country visit, signing memorandums of understanding (MOUs) and setting initial goals of providing opportunities for the disadvantaged to seek medical help in Taiwan, training local medical professionals and setting up a platform for referring patients to Taiwan.
"Our hospital became involved in Myanmar four years ago, but in the capacity of providing free medical services. We hope to export our services wholesale along with our vendors — from medical personnel to information systems, surgical equipment and medical devices — bringing entire industry chains into the market and opening up new economic opportunities," Hou said.
The Taiwanese teams have been visiting various hospitals and institutions in their partner countries to learn about their needs, and signing MOUs on cooperation and training in specific fields.
Changhua Christian Hospital, for example, has been helping Thailand set up a smart medical system in accordance with the Thailand 4.0 economic model, donating and demonstrating appropriate equipment to Bangkok Christian Hospital and Overbrook Hospital in December last year, in addition to other ventures.
The hospitals have provided medical personnel training programs, offered health consultation services for Taiwanese expatriates, and studied local markets and health-related regulations to customize feasible cooperation models and find business opportunities in each nation.
Other projects are taking place outside of the One Country, One Center system.
In line with the World Health Assembly's emphasis on global surgery, Taiwan had trained 21 seed practitioners from nine countries as of December last year.
The government also opened local hospitals to training foreign medical professionals, with 301 participants last year.
In December last year, the National Kidney and Transplant Institute in the Philippines sent six medical staff for a 12-day extracorporeal membrane oxygenation training workshop at National Taiwan University Hospital.
Collaboration with the US through the Global Cooperation Training Framework also includes the medical field. In April last year, the two nations hosted the International Training Workshop on Laboratory Diagnosis for Enterovirus, inviting lab professionals from 15 nations, 11 of them New Southbound Policy partners.
In line with the WHO target of eliminating tuberculosis by 2035, the two nations organized the Workshop on the Programmatic Management of Drug-Resistant Tuberculosis, which was held in April and included experts from five New Southbound Policy partners.
"Taiwan has much to contribute in advancing efforts to combat infectious diseases and many other international health concerns," American Institute in Taiwan Director Brent Christensen said.
In June last year, the Centers for Disease Control (CDC) hosted a four-week Tuberculosis Control and Prevention Workshop under the New Southbound Policy for 26 officials and professionals from Vietnam's Quang Ninh Province.
The workshop was held again this year, and participants visited Taipei Municipal Wanfang Hospital to learn about the Taiwan Multidrug-resistant Tuberculosis Consortium, as well as other relevant facilities.
In turn, a CDC delegation visited Vietnam for field training in September last year and in March.
These exchanges are always tailored to local needs — dengue fever continues to ravage Southeast Asia, with more than 100 people dying from the disease in Indonesia in January alone. Many dengue fever cases reported in Taiwan are imported from Southeast Asia.
Last year, the CDC initiated the New Southbound Dengue Prevention and Control Collaboration Program, focusing first on Indonesia. The program aims to boost exchanges and provide technical training courses that suit Indonesia's needs, as well as promote community-based disease prevention practices, to enhance regional capacity and reduce the threat of cross-border outbreaks.
In March, the CDC hosted its first Technical Training Workshop on Dengue Control, inviting 10 Indonesian health professionals.
Taiwan has also been looking at expanding opportunities for traditional medical practices, especially with India, which has a ministry dedicated to alternative and traditional medicines.
In October last year, China Medical University hosted the Taiwan-India Symposium on Traditional Medicine, and in July, representatives from the MOHW's Department of Chinese Medicine and Pharmacy visited India to explore collaborative opportunities regarding traditional Indian medicine.
Translation skills are vital in an increasingly global medical field. The MOHW in August announced that in addition to translators to help market medical products and services, it would start offering training classes for hospital translators, with Vietnamese as a priority.
It has been encouraging local medical industry vendors to make use of Taiwan's increased presence through the New Southbound Policy to take their products and technology to partner countries.
A major avenue are the Taiwan Expos (台灣形象展), which are held in New Southbound Policy partner nations and include a pavilion for smart medical services and technology at each expo.
At the Taiwan Expo in Vietnam in August, most of the questions directed at the New Southbound Policy Office were about medical tourism to Taiwan — last year, the number of patients from partner countries who visited Taiwan for medical treatment exceeded 150,000, accounting for 38 percent of the number of international patients visiting the nation, up 50 percent from two years earlier.
One of the forums at the Vietnamese event focused on Taiwan's smart healthcare industry, at which companies had the opportunity to present products such as telecare and smart hospital wards.
Taiwan Healthcare+ was established under the New Southbound Policy as an international trade platform for Taiwanese medical services, technology and biotechnology companies. It held its first expo in 2017, and an upcoming event in December is set to feature more than 500 hospitals and vendors from 17 nations, with countless networking and business opportunities.
Comments will be moderated. Keep comments relevant to the article. Remarks containing abusive and obscene language, personal attacks of any kind or promotion will be removed and the user banned. Final decision will be at the discretion of the Taipei Times.