INTERVIEW: China seeking win with information warfare: professor
Puma Shen, an assistant professor in National Taipei University's Graduate School of Criminology, in an interview with "Liberty Times" (sister newspaper of the "Taipei Times") reporter Chen Yu-fu said that the government should consider an anti-infiltration bill to counter China's information warfare
Liberty Times (LT): You and your research team have found that China has used cybertactics similar to those of Russia against Taiwan. How far has the information war against Taiwan gone?
Puma Shen (沈伯洋): Information warfare has as its goal victory without military resistance. It is a component of hybrid and unrestricted warfare. The "united front" strategy paves the way for expansion or promoting unification with China at a time of peace.
Russia and China each have their own models. The two countries might be learning from each other. Russia has used this type of power to intrude into the Baltic states and Ukraine. China has also engaged in "united front" infiltration work against the US, Canada and Australia.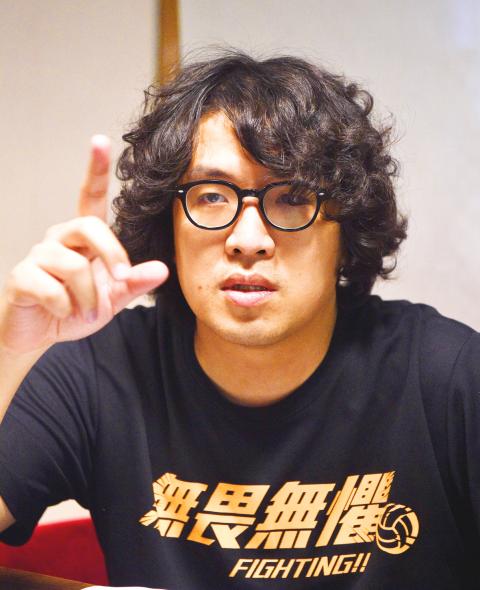 Puma Shen, an assistant professor in National Taipei University's Graduate School of Criminology, speaks during an interview in Taipei on April 9.
Photo: Peter Lo, Taipei Times
Wanting to influence voters through information warfare has happened before. Recently, many Facebook pages in Taiwan have been acquired. It looks like there is a demand for acquiring fan pages. It could also be that overseas Taiwanese businesspeople are paying public relations and marketing companies to acquire the pages to sell to China.
China has infiltrated US think tanks and purchased local Chinese-language newspapers.
These are real cases and some constitute information warfare.
These methods might be used in Taiwan, but just as Confucius Institutes are not used in Taiwan, the method might not be exactly the same.
Taiwan's temple system, as well as the ranks of village and borough wardens, have clearly been infiltrated by baishoutao [白手套, literally "white gloves," or middlemen employed as fronts for illegal behavior] and specific political groups or parties.
China has matured its information warfare. Since the 1990s, it has been discussing information warfare. The Chinese People's Liberation Army (PLA) has stolen Taiwanese data, including household registrations, driver's licenses, and information on neighborhoods and boroughs.
There is no real military need for this data. China's "Internet" can provide personal data to the United Front Work Department of the Chinese Communist Party's Central Committee and allow other "united front" units to get a grasp on the lifestyle preferences of Taiwanese and engage in political marketing. Right now, false information constantly appears in Taiwan and has already reached a serious level.
LT: What is the mode of China's information warfare against Taiwan? Taiwanese seem to be unaware. What signs are there?
Chen: The first step to proving information warfare is to understand the other side's organizational structure and to observe whether large amounts of personal data have been collected as a starting point for the warfare.
The second is to establish a warfare model.
In relation to the manipulation of elections in Taiwan, this would include markets, rumors in neighborhoods and boroughs, the use of content farms and cooperation among traditional media. Recently, content farms have been hit first, followed by traditional media outlets, which is different how the Democratic Progressive Party (DPP) and the Chinese Nationalist Party (KMT) have operated in the past.
Information warfare and "united front" tactics must be paired with a trust mechanism. It is useless to simply produce zhangbeitu [長輩圖, literally "senior images," or inspirational quotes superimposed on images whose circulation is said to be most common among elderly people]. They must be released through fan pages and Line chats groups that people trust for them to be effective.
Therefore, it must be confirmed whether non-public trust mechanisms have been infiltrated. There has been infiltration in neighborhoods and boroughs, so infiltration in closed networks should be investigated.
China is infiltrating the US and Australia. It is impossible that it has done nothing in Taiwan. For example, people who have installed GPS-enabled apps developed in China could have their daily activities and behavior monitored, with the information used to guide advertising.
There were two different versions of Kaohsiung Mayor Han Kuo-yu (韓國瑜)-themed Line stickers: one that looked like Chiang Chung-cheng [蔣中正, Chiang Kai-shek, 蔣介石] and one that looked like Rao Guohua (饒國華), a Nationalist Army general who was killed in the Second Sino-Japanese War. Clearly, the creators used layered marketing to evoke psychological emotions based on individual preferences.
LT: What is the real goal of China's information warfare campaign against Taiwan, including its political propaganda?
Shen: China's marketing of political ideas requires the use of big data, which is a strength it has because it collects information on members of the public at will. If Beijing wants information on Taiwanese, it can use computer attacks, steal it or even buy it from Taiwanese marketing companies. The personal information of many Taiwanese has been gathered by China.
It uses this information to market political ideas to Taiwanese or to refine the ideas it puts into circulation. These are reasonable assumptions.
Facebook can prompt people to vote by changing its algorithms, for example by showing positive news stories for a week. Large companies can do this too.
China spends a lot on economic micro-adjustments. It it impossible that it does not understand these things.
China's real goal is the annexation of Taiwan, which would be much cheaper than armed conflict.
Its ability to change people's way of thinking has to do with behavioral economics, which is a topic that two Nobel Prizes have been awarded for — this would not be lost on China.
The PLA refers to information warfare as "news combat," which really touches on the cognitive psychology aspect of it. This means of deception through direct marketing is a component of China's comprehensive "united front" strategy.
LT: What should the government do to counteract China's information warfare tactics and its disruption of Taiwanese society?
Shen: A whole set of countermeasures are needed, which would fall under the umbrella of the [scrapped] counterintelligence bill. To obstruct Chinese malice and infiltration, we need to authorize action among government agencies.
We must empower national security agencies — the [Ministry of Justice's] Investigation Bureau, the Financial Supervisory Commission, the Ministry of Finance and the Taxation Administration — to investigate the flow of money involving third parties [outside of Taiwan]. After all, Taiwan is a rule-of-law country; judges can only act according to the law.
Even having a set of counterintelligence laws would not be enough. The Ministry of National Defense should transform its Bureau of Political Warfare into the Asian equivalent of the European Center of Excellence for Countering Hybrid Threats to meet China head on. This is a top priority.
The terms of modern warfare are indistinct. The commencement of hostilities would not be decided by the PLA opening fire.
If an independence referendum were to be manipulated by China, then its outcome would be false. China could annex the nation without firing a single bullet. Regretting a vote after the fact would be too late; we need to implement preventative measures.
The US and Australia have already passed legislation aimed at preventing Chinese encroachment. If Taiwan establishes an agency to counter hybrid threats, it could be tasked with countering China's "united front" and infiltration efforts. It could hire information engineering experts to develop data models.
The National Communications Commission (NCC) is not a national security agency. We cannot rely on it to tackle "fake news" as an afterthought.
Taiwan was infiltrated a long time ago, such that the door is basically wide open. China is bolstering its infiltration. This is complete warfare — tackling information warfare alone as a countermeasure is not wide enough in scope and relying on the NCC is too slow to meet a pressing need.
The government should also investigate funding of groups such as the Chinese Unity Promotion Party and the Concentric Patriotism Association, and write laws to require sources of funding to be registered.
Only by amending articles in the Criminal Code that refer to foreign aggression to define China as an enemy could the majority of it behavior be obstructed.
Also, the government must accelerate progress on defining "fake news" in the context of local media, promote better public understanding of military issues and improve awareness about the specifics of China's information warfare efforts.
Translated by staff writers Sherry Hsiao and William Hetherington
Comments will be moderated. Keep comments relevant to the article. Remarks containing abusive and obscene language, personal attacks of any kind or promotion will be removed and the user banned. Final decision will be at the discretion of the Taipei Times.