MOJ considers murder charges for fatal DUI
STIFFER PUNISHMENTS: Lawmakers are also pushing to increase the maximum fines for drunk driving and handing out life or death sentences
The Ministry of Justice (MOJ) is considering a proposal to prosecute fatal drunk driving offenses as intentional homicide, in a bid to reduce the number of fatal accidents caused by drunk drivers.
Under the proposal, drunk driving suspects with a blood-alcohol concentration (BAC) of at least 0.75 milligrams per liter (mg/L) would be charged with murder, regardless of whether they had been involved in road accidents.
Other measures under consideration include immediate work termination for public officials and civil servants caught driving over the legal limit, increased penalties and fines, and raising the maximum punishment to life in prison or a death sentence for those involved in accidents causing death.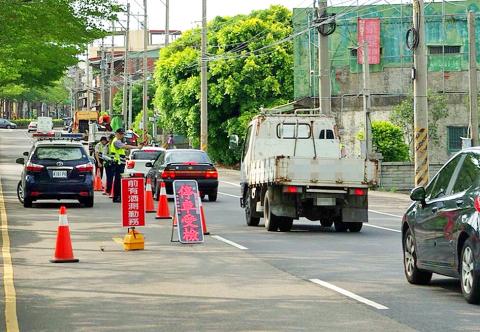 Police in Changhua County staff a drunk driving checkpoint in an undated photograph.
Photo: Tang Shih-ming, Taipei Times
The proposed amendments would also include charges of offenses against public safety for drivers who tested below the 0.75mg/L BAC threshold, but still above the legal limit.
The 0.75mg/L delineation was based on research and published papers by Tsai Chih-chung (蔡中志), a professor at the Department of Traffic Science at the Central Police University in Taoyuan.
According to Tsai's studies, drivers with 0.75mg/L of blood alcohol were 25 times more likely to cause an accident when behind the wheel.
"I wholly support the effort by the Ministry of Justice to set harsher punishments at 0.75 mg/L. When people reach this level, they would be severely drunk, which would significantly lower their reaction time," Tsai told reporters yesterday.
"If they insist on driving, it would easily result in accidents," he said.
He added that the 0.75 mg/L level would be an average person in Taiwan consuming five bottles of beer, and they should be held legally responsible for causing fatalities when involved in accidents.
Lawmakers are also pushing for stiffer punishments, such as raising the maximum fine for driving under the influence (DUI) from NT$200,000 to NT$300,000, handing out DUI convictions of a life or death sentence and increasing the prison term by two-thirds if caught for drunk driving again within a 10-year period.
Public outrage has placed pressure on the ministry and government to do something in the wake of more people being killed by drunk-driving incidents in recent weeks, including the deaths of two people earlier this month and three deaths in another DUI case on Jan. 23, both of which occurred in Taichung.
Comments will be moderated. Keep comments relevant to the article. Remarks containing abusive and obscene language, personal attacks of any kind or promotion will be removed and the user banned. Final decision will be at the discretion of the Taipei Times.