Short film seeks to raise awareness about counseling
Director Winson Chang's (張志宏) latest short film aims to raise awareness of the importance of seeking counseling and professional help when dealing with family conflicts and domestic violence.
In Accompany You Home (陪你回家), which premiered on Monday last week, Chang — who has a counseling background — recounts the real-life stories of two men, surnamed Ou (歐) and Chin (金), who sought help at the White Ribbon Anti-violence Learning Center in New Taipei City.
Ou had been taking care of his sister, who has cerebral palsy, since he was in elementary school. With with no one else to share the responsibility as the siblings grow older, he realized that he had neglected his own family as he cared for his sister.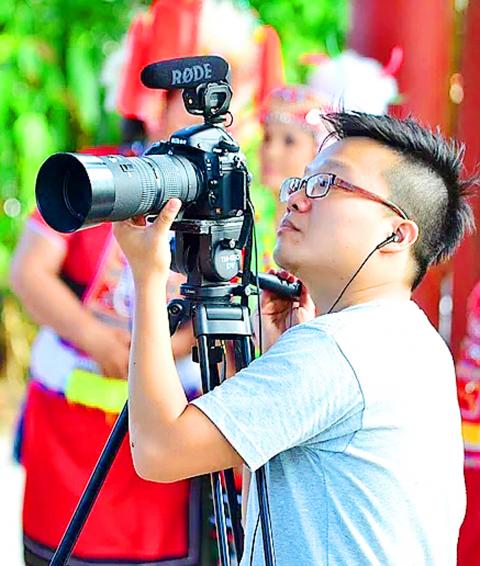 Documentary director Winson Chang films a traditional Chinese dragon dance in Chiayi County on Jan. 8.
Photo courtesy of Winson Chang
Filled with guilt, Ou tells how at one point he had become so frustrated that he thought about ending his sister's life.
Chin's story is one of how marital conflicts led to domestic violence and divorce.
With the help of the center's professionals, Ou learned how to relieve stress and Chin is now able to peacefully interact with his ex-wife. He also resumed his hobby of playing the harmonica and became a beach cleanup volunteer.
It has been 20 years since the Domestic Violence Prevention Act (家庭暴力防治法) was enacted, said Hsu Chih-chi (許芝綺), the director of New Taipei City's Domestic Violence and Sexual Assault Prevention Center.
Awareness of domestic violence and emergency services is improving daily, she said.
In 2011, the city government commissioned the Shiuh-li Cultural and Educational Foundation to establish the White Ribbon center, she said.
She hopes Chang's film can help change stereotypes about domestic violence and encourage abusers to accept help.
Society needs more listeners. so that those under pressure have channels to relieve their stress, New Taipei City Social Welfare Department Commissioner Chang Ching-li (張錦麗) said.
Comments will be moderated. Keep comments relevant to the article. Remarks containing abusive and obscene language, personal attacks of any kind or promotion will be removed and the user banned. Final decision will be at the discretion of the Taipei Times.