Geology paper edited to mention 'Chinese Taipei'
'RIDICULOUS': A geologist said that his 2003 paper was modified after an Australian institute published it on its Web site and now refers to the 'Chinese Taipei Strait'
National Central University associate professor of Earth sciences Lin Tien-shun (林殿順) on Friday sent a letter of complaint to the Australia-based Global Carbon Capture Storage Institute, after it changed references to Taiwan to "Chinese Taipei" in a 2003 paper of his.
The paper, titled "Cenozoic stratigraphy and subsidence history of the South China Sea Margin in the Taiwan region," was published in the journal Basin Research in 2003 and was cited 358 times as of yesterday. Lin is the paper's lead author, in collaboration with two academics from the University of Oxford.
The English-language paper he submitted uses Taiwan as the nation's name, but those references were changed to "Chinese Taipei," while "Taiwan Strait" was changed to "Chinese Taipei Strait" on the institute's Web site, Lin wrote on Facebook on Friday.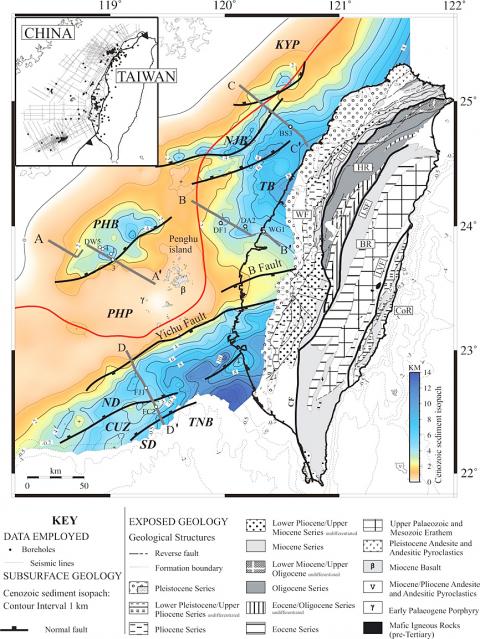 A map shows Taiwan in a 2003 paper by National Central University associate professor Lin Tien-shun.
Photo: Screen grab from Lin Tien-shun's Facebook page
He has written to the institute's chairman of the board, Claude Mandil, to express his strong protest against its political interference in academic research, Lin said.
"These changes are ridiculous, unfair and unacceptable to Taiwanese. I request that you replace 'Chinese Taipei' with 'Taiwan,' as I originally wrote," Lin wrote in the letter.
"I have been leading the Taiwan carbon storage project for years and visited your institute in Australia a few years ago. One of your former directors also visited Taiwan to exchange ideas on carbon storage," Lin wrote.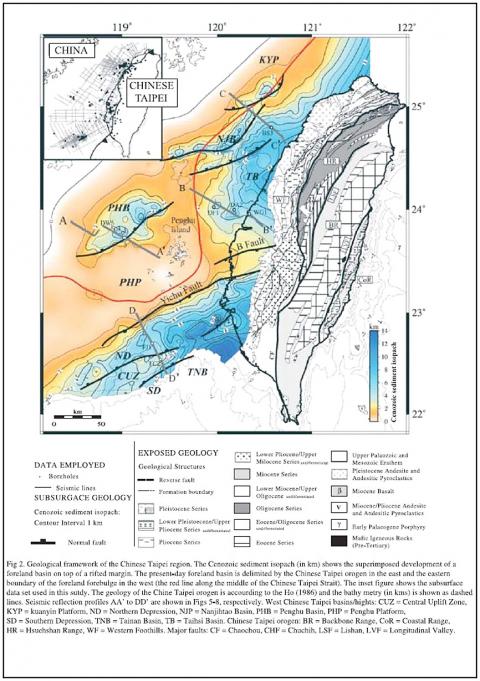 A map in a 2003 paper by National Central University associate professor Lin Tien-shun has been edited to read "Chinese Taipei."
Photo: Screen grab from Lin Tien-shun's Facebook page
"If the incorrect and inappropriate references are not removed, we will consider stopping exchanges with your institution," he wrote.
As of press time last night, Lin had not responded to questions from the Taipei Times about whether the institute had replied, but the institute's link to the paper was invalid yesterday.
The nation should be referred to as "Taiwan," "Taiwan, ROC" or "the Republic of China" in research funded by the Ministry of Science and Technology, ministry guidelines say.
Academics must request a change of name and inform the ministry's corresponding agency if they find international journals or conference organizers using incorrect names in reference to the nation in papers, or the papers in question would not be counted as part of their five-year research work when applying for funding, the guidelines say.
The guidelines do not apply to Lin's case, because the nation's was correctly named in the original paper, the ministry said.
It called on researchers to file an immediate request for such names to be changed if they encounter similar situations.
Comments will be moderated. Keep comments relevant to the article. Remarks containing abusive and obscene language, personal attacks of any kind or promotion will be removed and the user banned. Final decision will be at the discretion of the Taipei Times.