Pasuya Yao moves from politics to documentaries
Former Taipei mayoral candidate Pasuya Yao (姚文智) of the Democratic Progressive Party (DPP) on Friday evening said that he is retiring from politics to produce a documentary about independence activist Peng Ming-min (彭明敏) and hopefully another about democracy advocate Deng Nan-jung (鄭南榕).
Yao made the announcement at an event in Taipei to thank his voters.
Yao had vowed to end his political career should he receive fewer votes than two or more candidates in the Nov. 24 Taipei mayoral election.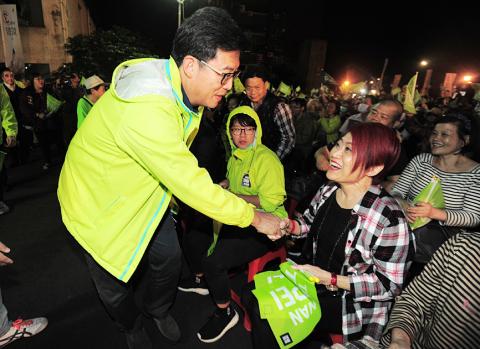 Former Democratic Progressive Party Taipei mayoral candidate Pasuya Yao, left, shakes hands with a woman at an event in the city on Friday to thank his supporters.
Photo: Wang Yi-sung, Taipei Times
Of the top three in the five-way race, Taipei Mayor Ko Wen-je (柯文哲) garnered 580,820 votes, or 41.05 percent; the Chinese Nationalist Party's (KMT) Ting Shou-chung (丁守中) received 577,566 votes, or 40.82 percent; and Yao received 244,641 votes, or 17.29 percent.
Cries that Yao should not retire from politics could be heard from the crowd as he took the stage to speak.
"It is my fault as the candidate that we lost this election. I let you down by not fighting hard enough," he said. "The losses in the [nine-in-one] elections calls for examination and reflection, but more importantly, we should stand together in the struggle for Taiwanese values."
The KMT's campaign to discredit democracy in Taiwan and the world should be one of the most important lessons drawn from the elections, he said.
Yao said he is producing a documentary about Peng and talked about his hopes to produce another film about Deng.
When one supporter shouted that he should run for DPP chairman, Yao relied: "I am not going to have the time [for films] if I am the party chairman."
Yao said that Deng is his hero and he has dreamed of making a film about him for many years.
"The idea of Taiwan as a country has to be deeply planted and Deng is the kind of heroic figure needed for a Taiwanese national identity," he said. "There are many people from Taiwanese history that I want to make documentaries about."
A pro-democracy advocate, Deng established Freedom Era Weekly in 1984, in pursuit of what he said was "100 percent freedom of expression."
Deng, then editor-in-chief, set himself on fire on April 7, 1989, as heavily armed police attempted to break into his office, in which he had spent 71 days of self-imposed isolation after he was charged with sedition for the anti-government views expressed in his magazine, which published a draft "Republic of Taiwan constitution" in 1988.
Comments will be moderated. Keep comments relevant to the article. Remarks containing abusive and obscene language, personal attacks of any kind or promotion will be removed and the user banned. Final decision will be at the discretion of the Taipei Times.