ELECTIONS: Kaohsiung hopefuls focus on economy in TV presentation
SLEEPING GIANT: KMT mayoral candidate Han Kuo-yu said he would make the city a 'youthful' and 'rich town,' while DPP hopeful Chen Chi-mai cited his term as acting mayor
Economic issues dominated a live TV "platform presentation" by the two main candidates in the Kaohsiung mayoral race yesterday.
Democratic Progressive Party Legislator Chen Chi-mai (陳其邁) said that Kaohsiung, the largest city in southern Taiwan, should try to strengthen its economy.
Developing tourism is one way to do so, he said.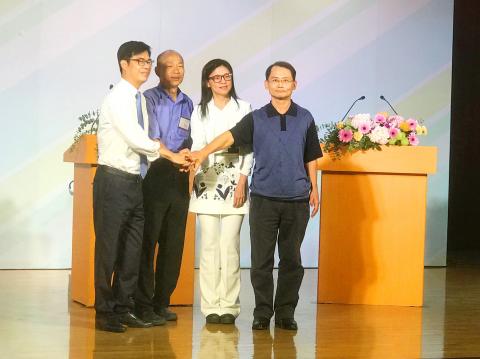 Democratic Progressive Party (DPP) Kaohsiung mayoral candidate Chen Chi-mai, left, and his Chinese Nationalist Party (KMT) opponent Han Kuo-yu, second left, yesterday shake hands with independent candidates Chu Mei-feng, right, and Su Ying-kuei ahead of a televised debate.
Photo: copy by Ko Yu-hao, Taipei Times
Chen said he would improve Kaohsiung's economy by developing the city as an Asian transportation hub, given its advantageous geographic location.
He said he would develop the high-tech industry in the city by building a semiconductor cluster and a technology corridor, while also encouraging an upgrade of the old economy sector so that it would become more competitive.
Chen also said he would also focus on green energy and a circular economy.
Chinese Nationalist Party (KMT) candidate Han Kuo-yu (韓國瑜) said that Kaohsiung, once a jewel in Taiwan's crown, is a sleeping giant whose economy has slowed down over the past two decades.
The time has come for the giant to awaken, Han said.
Kaohsiung has an advantage in aviation and sea transportation, as well as promising fishing and agricultural industries, Han said, adding that it should build on those strengths.
However, many people in Kaohsiung have lost hope due to long-term economic stagnation, while the city's population is shrinking, he said.
The city needs a new mayor to lead its economic revival, so the giant can rise up again, Han said.
Kaohsiung also needs a new leader to solve the problems that have caused the economic slowdown and to make it more attractive to investors, he said, adding that the biggest challenge for the next mayor would be to make Kaohsiung great again.
"I will lead Kaohsiung into the future as a youthful town, a rich town," Han said. "People coming to Kaohsiung will say it is a huge city, fun to visit and even easier to make money in."
In response to Shu Te University dean Chen Ching-yao (陳清燿), who asked how he intends to implement his platform, Chen Chi-mai cited his three-month term as acting mayor of then-Kaohsiung City in 2005 as evidence of his efficiency.
During his term, Chen said he demonstrated his ability to stand firm, to execute policies and to negotiate when he facilitated the city government's retention of piers by staging talks between Taiwan International Ports Corp's Kaohsiung branch, the Taiwan Railways Administration and the Ministry of National Defense.
However, Han said it was more important to cultivate trust among people.
If a majority of residents is angry and distrustful of the government, no policy, regardless how good or well-intentioned, could be pushed through, Han said.
The presentation also included independent candidates Chu Mei-feng (璩美鳳) and Su Ying-kuei (蘇盈貴), who lag far behind Chen and Han in opinion polls.
Comments will be moderated. Keep comments relevant to the article. Remarks containing abusive and obscene language, personal attacks of any kind or promotion will be removed and the user banned. Final decision will be at the discretion of the Taipei Times.