ELECTIONS: Ko ends term to focus on election, defends director
CULTURAL GUIDANCE: Ko's campaign director has been a target of criticism by KMT candidate Ting Shou-chung, who says Ko is attempting to use him to draw DPP votes
Taipei Mayor Ko Wen-je (柯文哲) today is to begin a leave of absence to focus on his re-election campaign.
Asked yesterday morning about his feelings on his last working day as mayor, Ko said he does not feel anything in particular, as he just discussed urban renovation issues in a daily meeting and still had to review many documents.
Ko also said that his campaign director Hsiao Yeh (小野) is a "nice person," after Hsiao Yeh appeared in a promotional video for Democratic Progressive Party (DPP) Kaohsiung mayoral candidate Chen Chi-mai (陳其邁), stirring speculation over Ko's political stance.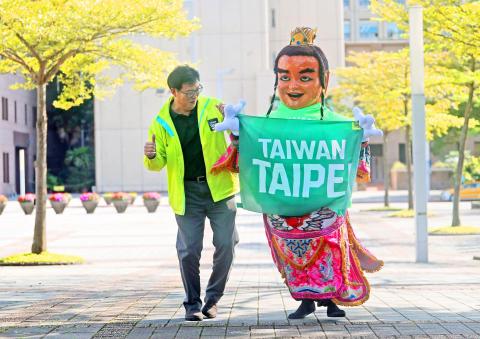 Democratic Progressive Party (DPP) Taipei mayoral candidate, Legislator Pasuya Yao, dances with a performer dressed as the Third Prince during a news conference outside the Taipei City Government Hall yesterday.
Photo: CNA
Ko had earlier said that he respects Hsiao Yeh's decision to support Chen, as election and political party preferences are not the only concerns in personal relationships.
He added yesterday that Hsiao Yeh is a nice person with a good reputation, who has hardly received any negative comments from the cultural industries.
Chinese Nationalist Party (KMT) Taipei mayoral candidate Ting Shou-chung (丁守中) on Tuesday wrote on Facebook that film director Wu Nien-jen (吳念真) and Hsiao Yeh are the two "cultural door-gods for the pan-green camp" and said that Ko asked Hsiao Yeh to be his campaign director in a bid to win DPP supporters' votes.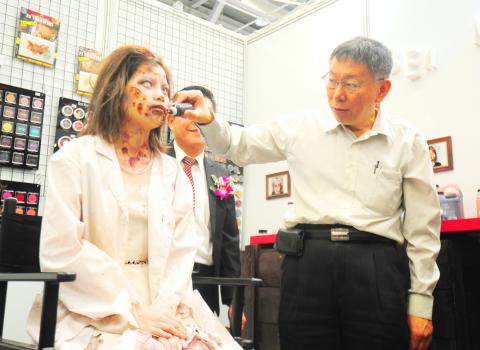 Taipei Mayor Ko Wen-je yesterday applies makeup on the face of a participant in the Taipei International Modeling Arts Festival.
Photo: Wang Yi-sung, Taipei Times
Ting in the past few days has repeatedly claimed that the DPP is planning to give up on its Taipei mayoral candidate, Legislator Pasuya Yao (姚文智), to pour extra effort into Chen's campaign.
Many supporters of KMT Kaohsiung mayoral candidate Han Kuo-yu (韓國瑜) left comments on Ko's Facebook page, calling him a fake independent.
Ko said he asked Hsiao Yeh to be his campaign director because Hsiao Yeh was his teacher during his first year in college, and because his rich experience in the arts could improve weaker aspects of his team.
Hsiao Yeh said that Ko did not ask him to become his campaign director because he is skilled at electoral manipulation, but because Ko has read his books and watched his movies, and wanted him to help formulate cultural policies.
He said he has so far not criticized any candidate, but is disappointed that Ting unfairly criticized his friend Wu.
He said he has begun to doubt whether Ting really understands the nation's cultural development, adding that his conspiracies regarding the DPP's strategy are deeply hurting everyone involved.
Hsiao Yeh said that he left the KMT-affiliated Central Motion Picture Corp at the age of 37 and began writing books about culture, ecology and education without support from any political party.
Bursting into tears three times, Hsiao Yeh spoke about Wu's contributions to Taiwanese culture, including a project they started with film director Ko I-chen (柯一正) to hold art performances for children in all 319 townships across the nation without any government or political party funding.
"I am not dependent on political parties, and my friend Wu Nien-jen has contributed much to Taiwan. I do not want to start a verbal battle, but he [Ting] called us door gods who control the industry," he said, adding that he is sad to see such politically motivated smearing.
Comments will be moderated. Keep comments relevant to the article. Remarks containing abusive and obscene language, personal attacks of any kind or promotion will be removed and the user banned. Final decision will be at the discretion of the Taipei Times.