ELECTIONS: Ko skips first Taipei election debate, says his performance can be Googled
Responding to comments about his absence from the first televised Taipei mayoral election debate yesterday, Taipei Mayor Ko Wen-je (柯文哲) said that those with questions about the performance of his administration can find answers on Google.
Chinese Nationalist Party (KMT) Taipei mayoral candidate Ting Shou-chung (丁守中), Democratic Progressive Party (DPP) candidate Pasuya Yao (姚文智) and independent candidates Lee Hsi-kun (李錫錕) and Wu E-yang (吳萼洋) participated in the televised debate held by Television Broadcasts Satellite (TVBS) yesterday afternoon.
Asked yesterday if he was worried that his absence would make him the main target of the debate and whether he would watch it to help him in the next one, Ko said he was used to being criticized by the media, as he has been their target for more than a year.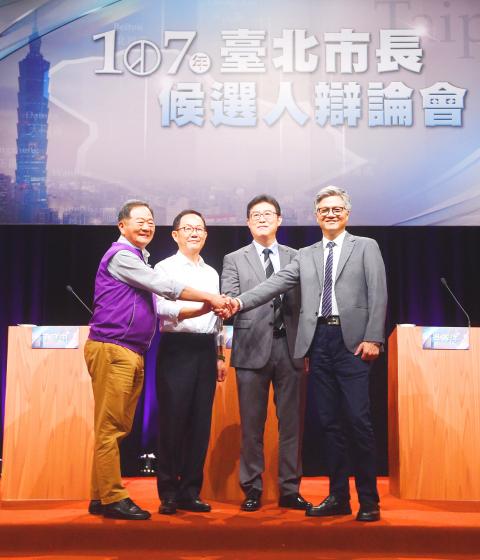 From left, Taipei mayoral candidates Lee Hsi-kun, independent, Ting Shou-chung of the Chinese Nationalist Party (KMT), Pasuya Yao of the Democratic Progressive Party and Wu E-yang, independent, join hands before a televised debate in Taipei yesterday.
"I always find it boring when [election] opponents attack me for not being a good administrator," he wrote on Facebook, adding that he is busy and works hard from 7am every day.
During the debate, Ting said that Taipei faces two major challenges, that the DPP sows political conflict rather than effecting economic development and that Ko hones his showmanship rather than his performance as mayor, causing the city to lose its global competitiveness and city residents to be stuck with low salaries.
Taipei is falling behind in comparison with many global cities, Ting said, adding that he plans to focus on urban renewal and disaster prevention if he is elected, as more than 4,000 buildings could be expected to collapse if a magnitude 6.0 earthquake hit the city.
Yao said that Ko's absence was an insult to the nation's democracy, as Taipei is Taiwan's capital and Ko is the city's mayor.
Yao said he would address the low birth rate, urban renewal and economic development if he was elected, and would work to protect democracy while implementing transitional justice.
He criticized the elections for being influenced by China, citing KMT Kaohsiung mayoral candidate Han Kuo-yu's (韓國瑜) recent online popularity, which Yao said was the work of China's "Internet army" and Chinese-funded media.
Lee said that if he is elected, he would free the way for people to make money and encourage Taipei's "nighttime economy," adding that attracting more tourists to the city and allowing them to enjoy it at any time of day would boost economic growth.
Wu said that his main principles are "safety, health, wisdom and tolerance."
He said he believes that cross-strait relations should be improved through negotiations, although he refused to elaborate.
Wu said he was asked to run for mayor by a Buddha, adding that he was the only "tolerant candidate."
Lee said Ko is an inconsistent administrator whose irresponsible behavior set a bad example for children, while Wu said that Ko is making a mess of city development, and lacks tolerance and the ability to execute plans.
Comments will be moderated. Keep comments relevant to the article. Remarks containing abusive and obscene language, personal attacks of any kind or promotion will be removed and the user banned. Final decision will be at the discretion of the Taipei Times.