Scientists discuss quantum mechanics with Dalai Lama
A group of Taiwanese scientists led by Nobel laureate Lee Yuan-tseh (李遠哲) on Thursday attended the opening ceremony of a three-day dialogue on quantum mechanics in Buddhism with the Dalai Lama in Dharamsala, India.
Having discussed similar issues with scientists from the West and India over the decades, the Dalai Lama in his opening remarks said this would be the first time he has engaged in such dialogue with scientists mainly from the Chinese community.
The Dalai Lama said that he hoped the dialogue would serve two purposes: expand the field of scientific research to include the study of the inner mind and promote the role of compassion, which some scientists believe is basic human nature, in the development of scientific research.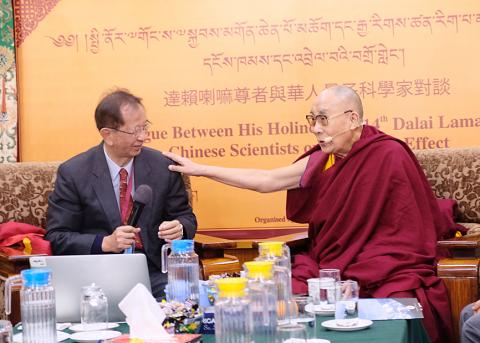 The Dalai Lama, right, pats former Academia Sinica president Lee Yuan-tseh's shoulder as he speaks during an event titled: "Dialogue Between His Holiness the 14th Dalai Lama and Chinese Scientists on the Quantum Effect" on Thursday in Dharamsala, India.
Photo: CNA
All religions carry the message of love, forgiveness, tolerance and self-discipline, but religion has limited effect in promoting the inner values of humanity, partly because it is often used to create division or to justify killing, the Dalai Lama said.
Different cultures and environments have varying effects on people's receptiveness to the messages conveyed by religions, he said.
People would find compassionate human nature more convincing if it was based on scientific findings rather than religion, the Dalai Lama said.
Science means investigating reality without being content with belief, an approach similar to Buddhist teaching that emphasizes experimentation and not belief, the Dalai Lama said.
In his remarks, Lee raised the issue of global warming and scientists' social responsibility.
Lee said that he has spent much of his time working on such issues because he worries about the future of humanity.
The dialogue offers a great opportunity for scientists to learn from the Dalai Lama through discussions on quantum mechanics, humanity and religion, Lee said.
Comments will be moderated. Keep comments relevant to the article. Remarks containing abusive and obscene language, personal attacks of any kind or promotion will be removed and the user banned. Final decision will be at the discretion of the Taipei Times.