INTERVIEW: Fair elections No. 1 concern: Investigation Bureau head
The Ministry of Justice's Investigation Bureau is stepping up investigations into possible foreign interference in the run-up to the Nov. 24 nine-in-one elections, bureau Director-General Leu Wen-jong, who took office on Sept. 20, said in an interview with 'Liberty Times' (sister newspaper of the 'Taipei Times') staff reporter Lin Ching-chuan
Liberty Times (LT): How will the Investigation Bureau help prosecutors investigate bribery in relation to the nine-in-one local elections?
Leu Wen-jong (呂文忠): We have already done much to advocate against bribery and in terms of intelligence, we have analyzed the electoral districts where bribery is more likely to occur, and assessed which electoral districts and candidates are more likely to bribe voters, listing them as targets for investigation.
In addition, we have deployed 183 investigators to district prosecutors' offices around the nation, where they are to remain stationed for a month. We will be adjusting these arrangements depending on the atmosphere and the needs of different offices.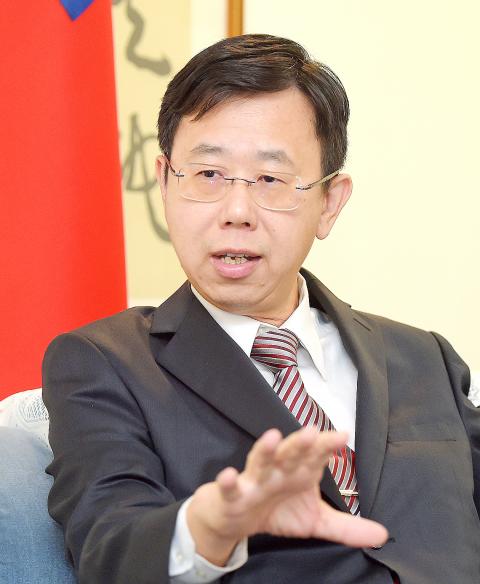 Investigation Bureau Director-General Leu Wen-jong gestures during an interview with Liberty Times (sister newspaper of the Taipei Times) reporter Lin Ching-chuan on Oct. 15.
Photo: Huang Yao-cheng, Taipei Times
LT: How can the bureau prevent foreign forces from interfering with the local elections?
Leu: If foreign forces were to meddle in the elections, it would affect the fairness of the vote. Intelligence reports show that China is attempting to influence the elections using various methods.
The bureau's divisions will strengthen their collection of intelligence on such attempts. If the bureau discovers [individuals or groups] who might be involved in such attempts, it will ask the responsible district prosecutors' office to direct the investigation.
The bureau has obtained some intelligence indicating that Chinese are attempting to interfere with the elections using financial means, primarily by supporting individual candidates
LT: "Fake news" and disinformation can threaten national security. How does the bureau collect reports on such operations and investigate them?
Leu: The Internet has become essential and it is not just Taiwan that is facing the problem of fake news and disinformation — the problem affects countries worldwide. Some of the disinformation affects national security, some of it affects social order, some of it affects people's reputations.
For the moment, the bureau is focused mainly on disinformation that threatens national security or social order. If we encounter what appears to be fabricated information, once investigators determine it to be fake news and find that its dissemination is criminal in nature, we will move to prosecute the offenders.
If it does not touch upon criminal behavior, but threatens the government's authority and responsibility, it is still necessary to deal with it. [In such cases] we will hand the case over to relevant authorities so that they can act.
We have personnel systematically collecting and analyzing reports on disinformation posted to Facebook and other social media platforms, as well as [messaging apps] such as Line.
I realize that some people might be concerned that such actions infringe upon the freedom of the press or their freedom of speech. I guarantee that the Investigation Bureau will work strictly within the boundaries of the law.
LT: How does the bureau prevent foreign powers from infiltrating secure institutions and accessing classified information? How does it protect national security?
Leu: Protecting national security is the bureau's most important mission. Due to the state of cross-strait relations, China employs every measure possible to recruit Taiwanese officials [for espionage] and access national secrets.
Cases pertaining to national security mostly involve communist spies, Taiwanese recruited to collect classified information or Chinese sent to Taiwan to form spy networks.
One good example is the case of Chinese People's Liberation Army intelligence officer Zhen Xiaojiang (鎮小江) who came to Taiwan to set up such a network. Another is the unsuccessful attempt by [former Chinese student] Zhou Hongxu (周泓旭) to form a cell in Taiwan.
Then there was the case of retired Taiwanese military officer Pien Peng (邊鵬), who was found to be helping the Chinese gather military secrets.
Over the past five years we have handled 52 national security cases involving 115 people.
LT: What are your expectations for bureau staff?
Leu: The bureau has a long and lustrous tradition. It has shown outstanding performance no matter whether it is protecting national security or investigating crime. Of course, the bureau is also facing some new challenges and responsibilities.
Right now, the bureau's most important job is to investigate election bribery and ensure the fairness of the elections. Second, it is to maintain national security and protect social order. Third, it must preserve procedural justice and ensure law-based governance. Fourth, it must strengthen its partnerships and inspire teamwork; and fifth, it must use technology to improve its innovative services.
I want to create a better work environment for bureau staff, free up more energy for investigations and help the bureau fulfill its role as an institution that belongs to the nation and to the people, is innovative and technologically advanced, and values human rights.
Translated by staff writers Sherry Hsiao and William Hetherington
Comments will be moderated. Keep comments relevant to the article. Remarks containing abusive and obscene language, personal attacks of any kind or promotion will be removed and the user banned. Final decision will be at the discretion of the Taipei Times.