Kinmen touts ancient hiking trail to Taiwu
With the advent of autumn, the Kinmen County Government is stepping up promotion of an ancient trail on Taiwu Mountain (太武山), the highest in the county, as part of ongoing efforts to boost tourism.
Dotted with numerous granite steps, the Caicuo Ancient Trail (蔡厝古道) is a path that used to connect Shamei (沙美) and Shanwei (山外) villages, which are separated by Taiwu Mountain in the eastern part of Kinmen Island, the county government said in a press release.
In earlier times, traders carried baskets loaded with tofu and fresh vegetables on a stick over their shoulder along the trail to sell their wares.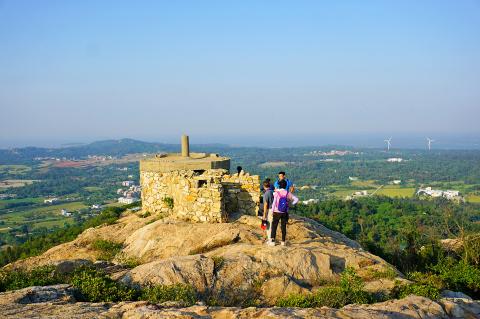 Hikers visit an old army gunpost on top of Kinmen County's Taiwu Mountain after climbing the Caicuo Ancient Trail on Kinmen Island on Friday last week.
Photo: CNA
That explains its other name, Tofu Ancient Trail (豆腐古道), the county said.
Kinmen started promoting the Taiwu Mountain hiking tour along the Tofu Ancient Trail last year, Kinmen Tourism Department officials said.
With the Caicuo Old Trail as its main feature, the tour is designed to attract hikers and ancient trail fans from Taiwan and China, giving them a glimpse into rarely seen natural and cultural landscapes in Kinmen, the officials said.
The trail has already been featured on the popular television travel program Made In Taiwan (MIT台灣誌) on China Television, which visited Kinmen for five days in August to document it, county officials said.
Former county government resident artist Tsou Chia-che (鄒佳哲) was commissioned by the county government to paint a mural featuring the Tofu Ancient Trail at the Caicuo tourist center last year and returned to lead a group of reporters and hikers along the trail earlier this month.
On the three-hour walk from the trail entrance to the peak of Taiwu Mountain, the group visited cultural spots from the Song, Yuan, Ming and Qing dynasties, as well as more modern attractions.
At the top of the mountain, Tsou once again sketched the beauty of the trail and a wonderful bird's-eye view of Jinsha Township (金沙), the department said.
Comments will be moderated. Keep comments relevant to the article. Remarks containing abusive and obscene language, personal attacks of any kind or promotion will be removed and the user banned. Final decision will be at the discretion of the Taipei Times.