2018 ELECTIONS: DPP slams KMT's Han for spreading false information
The campaign office of Democratic Progressive Party (DPP) Kaohsiung mayoral candidate Chen Chi-mai (陳其邁) yesterday accused his Chinese Nationalist Party (KMT) rival, Han Kuo-yu (韓國瑜), of falsifying information and demanded that he issue a retraction and a public apology.
Chen's office spokesman Chao Tien-lin (趙天麟) said that the office held a news conference on Monday to announce that it would file charges against Han's Facebook fan page manager and 20 netizens, who posted allegations that former Kaohsiung mayor Chen Chu (陳菊) and Chen Chi-mai, a legislator, had arranged for favored companies to win bids for NT$30 billion (US$972.5 million) of city construction projects.
Early on Tuesday morning, Han's Facebook fan page was shut down, prompting Han to say that he was "not a saint" and would retaliate if pressed too hard.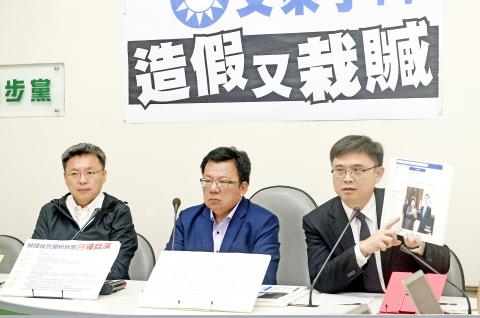 Democratic Progressive Party legislators hold a news conference in Taipei yesterday, accusing Chinese Nationalist Party (KMT) Kaohsiung mayoral candidate Han Kuo-yu of making false allegations.
Photo: George Tsorng, Taipei Times
His comment seems to imply that the DPP was responsible for the shutdown.
However, Facebook Co on Tuesday issued a statement saying it had not taken any administrative action against the fan page.
Han's campaign office then issued a statement through KMT Chairman Wu Den-yih's (吳敦義) southern Taiwan office saying that it had shut down the fan page, Chao said.
The fan page had undergone multiple name changes, but had always claimed to have received the approval of Han's campaign office, Chao said.
The entire incident is a farce conducted by Han's team, Chao said, adding that not only should Han retract his former statements, but he should also issue a public apology for setting the worst possible example in a democratic election.
Han's campaign office's statement was no doubt a slap in the face of KMT Legislator Huang Chao-shun (黃昭順), whose official Facebook page on Tuesday morning claimed that the incident was a "reinstatement of the Martial Law era."
Chen Chi-mai urged Han to rein in his team on distributing false information.
The Presidential Office on Tuesday said that Secretary-General Chen Chu would also be bringing charges against Han's Facebook fan page manager and other netizens connected to the incident.
Comments will be moderated. Keep comments relevant to the article. Remarks containing abusive and obscene language, personal attacks of any kind or promotion will be removed and the user banned. Final decision will be at the discretion of the Taipei Times.