Taiwanese bishop meets Chinese counterparts
Chiayi Bishop Chung An-chu (鍾安住) said he exchanged greetings and handshakes with two Chinese bishops when the three men met during this month's Synod of Bishops at the Vatican.
It was the first time that Catholic bishops from Taiwan and China were both in attendance at a synod, Chung said on Saturday.
Asked about the moment when he met the Chinese pair, Guo Jincai (郭金才) and Yang Xiaoting (楊曉亭), Chung said he told them he was pleased to see them.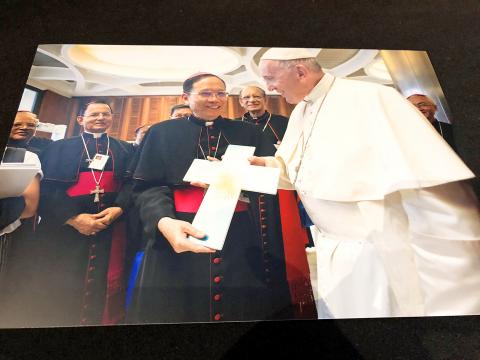 Chiayi Bishop Chung An-chu, center, speaks with Pope Francis in the Vatican in an undated handout photograph.
Photo: CNA, courtesy of Chung An-chu
He also told Guo and Yang that "it's been a long time" since bishops from China had been at the Vatican, he said.
There are 266 bishops from around the world taking part in the synod, Chung said, adding the difference this year was that he was able to converse in Chinese with his counterparts from China.
The inclusion of Chinese bishops follows the Sept. 22 provisional agreement the Vatican and the Chinese government signed on appointment of bishops.
Noting that there have been divisions among Chinese Catholic churches, Chung said the Holy See had invited Chinese bishops to previous synods, but they were never able to attend.
Asked whether he thought the Sept. 22 agreement would affect diplomatic relations between Taiwan and the Holy See, Chung said there were no signs of such a development.
However, the agreement might help improve religious freedom in China, leading to reforms such as the removal of a rule that prohibits people under the age of 18 from entering a church to attend Mass.
Meanwhile, Chung said that in his May meeting with Pope Francis, the pontiff praised Taiwan's humanitarian relief efforts. He said he told the pope that in light of the ongoing pressure from China, Taiwan needs the pope to stand side by side with its people.
The pope promised to "immediately" pray for Taiwan, he said.
Chung also attended a dinner on Saturday hosted by Vice President Chen Chien-jen (陳建仁) in Rome for leaders of Taiwanese expatriate groups in the Vatican and priests and nuns who have served in Taiwan.
Comments will be moderated. Keep comments relevant to the article. Remarks containing abusive and obscene language, personal attacks of any kind or promotion will be removed and the user banned. Final decision will be at the discretion of the Taipei Times.