Nobel laureate praises Taiwan's efforts to engage youth
'BIG HEART': Kailash Satyarthi lauded Taiwan for sending the largest numbers of volunteers for human services and support in Africa and Asia by population ratio
Nobel Peace Prize laureate Kailash Satyarthi yesterday applauded Taiwan-led initiatives to engage and empower younger generations to make positive changes.
In a keynote address to the Yushan Forum in Taipei, the Indian laureate said respecting the voices of young people is an important way to find solutions to the many problems afflicting humanity.
"Today I would urge you to prioritize developing our children and young people in the world. No sustainable change, no sustainable peace, no sustainable prosperity is possible without respecting young people in the world," he said.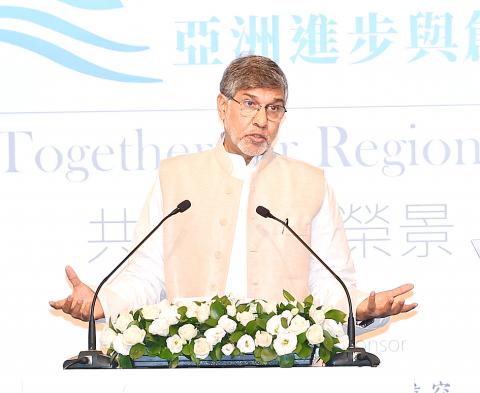 Nobel Peace Prize laureate Kailash Satyarthi speaks at the opening of the Yushan Forum at the Grand Hyatt Taipei yesterday.
Photo: Fang Pin-chao, Taipei Times
Satyarthi, the founder of the Bachpan Bachao Andolan (Save Childhood Movement), which campaigns for the rights of children, shared the 2014 Nobel Peace Prize with then-Pakistani teenager Malala Yousafzai.
Taiwan is like his "second home," because he has hundreds of "children" who live here, he said, referring both to his second visit to the Taipei and to the Taiwanese volunteers who have worked over the past 10 years at Bal Ashram, his group's rehabilitation and training center, which caters to the special needs of child labor victims.
Taiwan sends the largest number of volunteers for human services and support in Africa, Asia and other countries around the world in terms of the percentage of population, he said.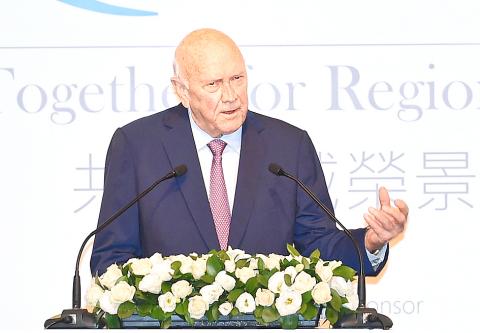 Former South African president F.W. de Klerk speaks at the opening of the Yushan Forum in Taipei yesterday.
Photo: Fang Pin-chao, Taipei Times
"Though Taiwan is a small country, people have a big heart," he said.
He hailed President Tsai Ing-wen (蔡英文) for her New Southbound policy, adding: "When everybody looks at the North and the West, you have that leadership that looks southbound. Thanks for that."
The Yushan Forum was inaugurated in October last year as a platform to promote cooperation among nations targeted by the New Southbound policy. This year's two-day meeting is focused on engagement among young leaders in the region.
Another Nobel peace laureate, former South African president F.W. de Klerk, discussed the role of leaders in guiding change and innovation.
Instead of listening to what the people want and then giving it to them, "the real challenge for real leadership is to convince people what is best for them," even if achieving that goal might take some sacrifices, he told the forum.
In the long run, the vision would benefit them and, more importantly, the next generation, he said.
After identifying the need, the next challenge for a leader is to formulate a concise goal before convincing his or her voters to back it up, he said.
Taking his country as an example, he said South Africa and its people "were caught up in the downward spiral of violence and continuing repression" in the 1980s."
"We were in the wrong place. We had to admit to ourselves that where we stood is morally indefensible and therefore we have to change fundamentally," he said.
US Environmental Protection Agency Principal Deputy Assistant administrator Jane Nishida told the forum that Taiwan's contributions to environmental protection is a source of inspiration for countries in the region.
Taiwan has made great progress in tackling environmental issues over the past 20 years, including water and air pollution and electronic waste management, Nishida said.
Countries around Asia have been drawn to Taiwan's example, which is being shared under the International Environmental Partnership, a longtime collaboration between her agency and the Environmental Protection Administration, she said.
"Taiwan has now become a leader in environmental protection and a true global example," she said.
Comments will be moderated. Keep comments relevant to the article. Remarks containing abusive and obscene language, personal attacks of any kind or promotion will be removed and the user banned. Final decision will be at the discretion of the Taipei Times.