Vatican, Fo Guang Shan to hold interfaith seminar
A delegation of Vatican officials is to visit Taiwan later this month for a joint seminar with Fo Guang Shan, the largest buddhist monastery in the nation, the Ministry of Foreign Affairs said.
The Pontifical Council for Interreligious Dialogue and the monastery are to hold an international Christian-Buddhist symposium in Kaohsiung, Department of European Affairs deputy head Chen Hsin-hsin (陳欣新) said.
About 60 participants from 16 nations are to attend the seminar to promote mutual understanding between the two religions, Chen said.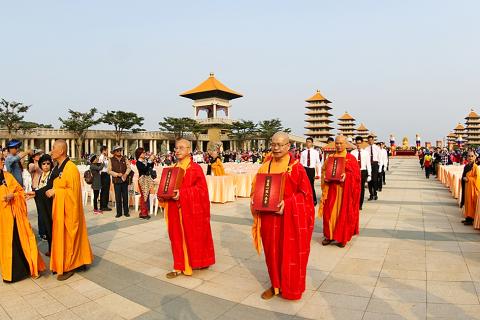 Buddhist monks and staff from the Fo Guang Shan Monastery chant the mantra to Shakyamuni Buddha at a ceremony at the monastery in Kaohsiung on Feb. 25 last year.
Photo Courtesy of Fo Guang Shan
They are to include council secretary Monsignor Miguel Angel Ayuso Guixot and undersecretary Monsignor Indunil J. Kodithuwakku K., Chen said.
Bruno Ciceri, international director of the Apostleship of the Sea at the Holy See's Dicastery for Promoting Integral Human Development, and Frederic Fornos, international director of the Pope's Worldwide Prayer Network and Eucharist Youth Movement, will also be among the distinguished guests at the event, Chen said.
Based on the universal values of peace, freedom, equality and altruism, Taiwan will remain an indispensable partner of the Holy See in promoting peace and freedom of religion around the world, she said.
The seminar, scheduled for Saturday next week to Oct. 20, will be the third such interreligious event to be held in Taiwan, following the 24th World Congress of the Apostleship of the Sea and the sixth Buddhist-Christian Colloquium Review, both of which took place last year, the ministry said.
Comments will be moderated. Keep comments relevant to the article. Remarks containing abusive and obscene language, personal attacks of any kind or promotion will be removed and the user banned. Final decision will be at the discretion of the Taipei Times.