Minister joins US college hall of fame
DISTINCTION: A former chief of general staff, Chiu Kuo-cheng was the first Taiwanese to make it to the US Army College's illustrious list in recognition of his achievements
Veterans Affairs Council Minister Chiu Kuo-cheng (邱國正) has been inducted into the US Army War College International Fellows Hall of Fame, the first Taiwanese to receive such an honor, the council said on Sunday.
Chiu, a former chief of general staff, attended the induction ceremony in Carlisle, Pennsylvania, on Aug. 30, the council said.
The US Army recognized Chiu's exceptional achievements and chose him to be the 68th person to be awarded a fellowship at the international hall of fame, it said.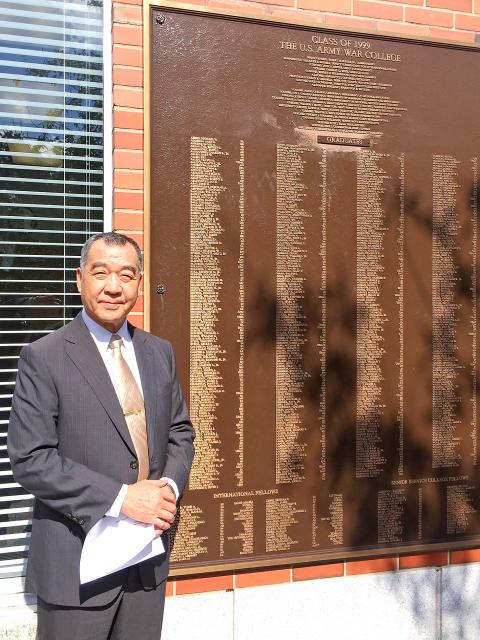 Veterans Affairs Council Minister Chiu Kuo-cheng stands next to a plaque for class of 1999 graduates of the US Army War College in Carlisle, Pennsylvania, in an undated photo.
Photo courtesy of the Veterans Affairs Council
No Republic of China (ROC) military officer had ever received such a distinction before, the council said.
Prior to the induction ceremony, Chiu attended the American Legion of Honor's annual convention.
The American Legion has proposed numerous resolutions supporting Taiwan, and Chiu attended the convention as a way of expressing the nation's gratitude to the legion, the council said.
Chiu shared his thoughts on soldiering with the college's 500 faculty and cadets, and exchanged views with military officers from US allies around the world, an official said on condition of anonymity.
The college introduced Chiu as an outstanding soldier from the Republic of China at the ceremony, but referred to the nation as Taiwan at the hall itself and the alumni list for the class of 1999, they said.
The college has since 1978 recruited officers from US allies and currently has 1,613 foreign enrollees.
An education at the prestigious academy is a significant mark of distinction for the career prospects of soldiers in and out of the US Army, and the international hall of fame was established to honor alumni who had distinguished themselves in non-US military service.
Chiu graduated as an armor officer from the ROC Military Academy in 1967 and was selected by the Ministry of National Defense to enroll at the US Army War College in 1999.
Chiu served as sixth army corps commander, deputy minister of national defense and commander of armed forces reserve command, among other posts.
He retired from the military in April last year and became the minister of the council in February.
Comments will be moderated. Keep comments relevant to the article. Remarks containing abusive and obscene language, personal attacks of any kind or promotion will be removed and the user banned. Final decision will be at the discretion of the Taipei Times.