League made over NT$30bn in interest
FAMILY BUSINESS: Chiang Kai-shek's wife Soong Mayling used the KMT's one-party rule to accrue immense wealth for the Women's League, the assets committee said
The National Women's League's assets have earned it more than NT$30 billion (US$976.7 million) in interest income since the 1990s, the Cabinet's Ill-gotten Party Assets Settlement Committee said in a report published late on Wednesday.
The report is part of the committee's investigation to determine whether the league's assets were obtained through illegitimate means and whether they should be nationalized.
A public hearing is scheduled to be held on Oct. 4 to discuss the matter.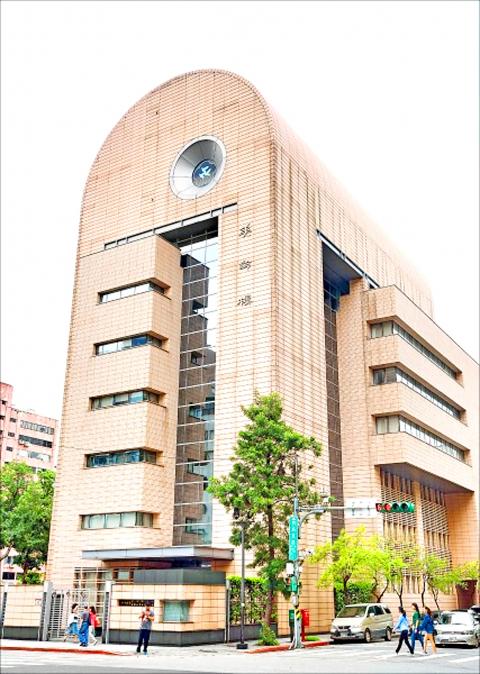 The National Women's League building is pictured in and undated photograph in Taipei.
Photo: Chen Yu-fu, Taipei Times
It followed the committee's designation in February of the league, founded in 1950 and run for decades by Chiang Kai-shek's (蔣介石) wife Soong Mayling (宋美齡) as an affiliate with the Chinese Nationalist Party (KMT).
Soong capitalized on the KMT's one-party rule and helped the league accumulate assets comparable to the wealth of a nation by collecting donations from importers' and exporters' associations, and other organizations, the report said, citing evidence the committee has collected.
The league received a total of NT$13.9 billion in donations for military veterans' housing from 1957 to 1994, of which NT$9.83 billion has been spent.
The committee's calculations showed that when interest on the donations for military veterans' housing is factored in, the cumulative balance came to NT$581,984 in 1957, NT$43.14 million in 1961, NT$379.6 million in 1969, NT$891.5 million in 1971 and NT$8.6 billion in 1981.
The figure rose to NT$17.1 billion in 1989, NT$19 billion in 1990, NT$35.6 billion in 2001, NT$42.3 billion in 2011 and to NT$45.7 billion last year, committee data showed.
The interest revenue books kept by the so-called Preservation Commission, which was in charge of overseeing the league's funds, showed that the league earned NT$30.2 billion in interest income from 1990 to 2016, the assets committee added.
As of December 2016, the commission's bank account had an estimated NT$47.9 billion in savings and interest revenues, the committee said.
The league's asset structure consists mostly of current assets including cash, bank savings and marketable securities, it said.
As of December 2016, the league possessed NT$37.94 billion in cash and bank savings and NT$517.2 million worth of marketable securities, the committee said.
Comments will be moderated. Keep comments relevant to the article. Remarks containing abusive and obscene language, personal attacks of any kind or promotion will be removed and the user banned. Final decision will be at the discretion of the Taipei Times.