Taipei to distribute personal alarms to all young students
The Taipei City Government yesterday said personal safety alarms would be distributed to all elementary-school students in the city as part of efforts to make Taipei safer.
At a personal safety education event at an elementary school, Taipei Mayor Ko Wen-je (柯文哲) said he has been thinking about ways to enhance safety, particularly children's personal safety.
Ko said he began thinking about the issue after he was reminded about the murder of a four-year-old girl nicknamed "Little Light Bulb" (小燈泡) in the city's Neihu District (內湖) on March 28, 2016.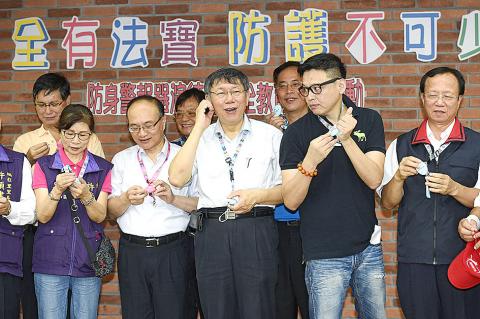 Taipei Mayor Ko Wen-je speaks at a news conference in Taipei yesterday.
Photo: George Tsorng, Taipei Times
The Taipei Department of Education said it last year began providing first and second-graders with personal safety alarms, and has allocated a budget of about NT$19.97 million (US$648,250) to expand the policy to all elementary school students, or about 115,750 children, starting this school semester.
Taipei's 12 district heads meet monthly with officials from seven city government departments to discuss social security issues, Ko said, but added that personal safety protection was still needed.
There are three levels of personal safety: "self-help," or the ability to help oneself; "mutual help," or having the awareness to check a situation when people ask for help; and "public help," which means public awareness to step in and help others in need, Ko said.
"In addition to teaching children when and how to use the alarms, as well as not to play with them, the most important part is that adults should be educated to identify the alarm's sound and immediately realize that a child is asking for help," Ko said. "So please look when you hear the alarm, or else it would be ineffective."
The Taipei Fire Department is still determining the optimum frequency and volume for the alarms, but the policy is already in place, so children should be encouraged to carry the alarms every day and learn when to use them, he said.
Separately, Ko was asked about Taipei Agricultural Products Marketing Co general manager Wu Yin-ning's (吳音寧) unwillingness to report to the Taipei City Council, instead posting on Facebook her suggestions about a project to renovate the Taipei First Wholesale Fruit and Vegetable Market.
Everyone is entitled to express their opinions before the project is decided, but it should be done "within the [administrative] system," Ko said.
Wu should report her suggestions to the board of directors or at monthly or daily administrative meetings at Taipei City Hall, not on Facebook, he said.
However, Taipei Department of Economic Development Commissioner Lin Chung-chieh (林崇傑) and Taipei Market Administration Office Director Sheu Shyuan-mou (許玄謀) later told the Taipei City Council's Democratic Progressive Party caucus that Wu had attended some of the meetings and the company also proposed suggestions on the renovation.
Comments will be moderated. Keep comments relevant to the article. Remarks containing abusive and obscene language, personal attacks of any kind or promotion will be removed and the user banned. Final decision will be at the discretion of the Taipei Times.