Lawmaker calls for probes into 'real-estate scams'
New Power Party Executive Chairman Huang Kuo-chang (黃國昌) yesterday called for more investigations into a series of alleged "real-estate scams" after several police departments reportedly refused to handle victims' claims on the grounds that they were "real-estate disputes and not fraud."
Sellers were approached by seemingly ordinary buyers who requested to have ownership of the homes transferred to them after making a down payment, saying that they needed to take out mortgages from banks to make the rest of the payment, Huang told a news conference at the party's caucus office in Taipei.
Once the buyers obtained the deeds, they sold the homes to an underground money lender and kept all of the money, he said, adding that even if the registration is transferred back to the seller, it would still be collateral for the underground loan.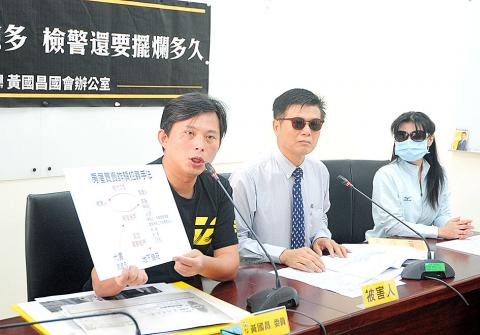 New Power Party Executive Chairman Huang Kuo-chang, left, speaks at a news conference at the Legislative Yuan in Taipei yesterday.
Photo: Wang Yi-sung, Taipei Times
All the buyers made the down payments with checks from Chunghua International Asset Development Co (中華國際資產開發有限公司) and were mobilized by real-estate agents from Chunghua Land Administration Agency and Law Firm (中華地政士聯合法律事務所) in Taipei's Datong District (大同), suggesting a fraud ring was behind the scheme, he said.
Since last year, more than 50 people have lost their homes to the scam, said a man surnamed Hsing (邢), who has filed a lawsuit against Chunghua International Asset Development owner Chen Kuo-shuai (陳國帥) and others involved in a fraudulent sale in January.
"Of those people, only 15 have been willing to show their contract, while the rest refused because they have been threatened by the ring," Hsing said. "Of the 15, less than half have filed a lawsuit, as the rest are still attempting to report their case to the police, who have refuse to file a report."
A woman surnamed Chen (陳), who has moved to Yilan County to avoid retaliation by the ring, said she was told by police at Taipei's Zhongshan Precinct that they could not open a case, because her contract with the buyer has not taken effect.
It was not until she contacted the Criminal Investigation Bureau's Anti-fraud Command Center that the precinct finally agreed to handle her case, she added.
"I hope stuck-up law enforcement officers will open their eyes and see the crime for what it is and feel the agony of victims. This is not a simple real-estate dispute, it is organized fraud," she said.
She said that when she contacted Chunghua Land Administration Agency and Law Firm last month, an agent named Chen Tsu-fan (沈咨凡) told her that if she wants her home back, she would have to buy shares from Chunghua International Asset Development totaling the equivalent of the remaining payment owed by the initial buyer.
Police and prosecutors have clearly been ineffective in investigating the scams, despite an obvious connection to another fraud case involving Chen Kuo-shuai, Huang said.
Chen Kuo-shuai has been banned from leaving the nation due to his connections with Anlien International Co (安聯國際), which is registered at the same address as Chunghua Land Administration Agency and Law Firm and is involved in a case of fraud against a state-owned bank, he said.
Anti-fraud Command Center Deputy Director Wang Tsung-sheng (王琮聖) apologized to the woman on behalf of police, promising to look into the issue and report the progress of the investigations to Huang as soon as possible.
Comments will be moderated. Keep comments relevant to the article. Remarks containing abusive and obscene language, personal attacks of any kind or promotion will be removed and the user banned. Final decision will be at the discretion of the Taipei Times.