LGBT rights group submits signatures for referendum bid
The Equal Rights Referendum Group yesterday submitted to the Central Election Commission the signatures it has gathered for two referendum questions that, if approved by the commission, would be tied to the Nov. 24 nine-in-one local elections.
The two referendum proposals are on gender equality education and same-sex marriage, said Social Democratic Party (SDP) member Miao Po-ya (苗博雅), who is the group's convener.
The same-sex marriage referendum proposal received more than 550,000 signatures, while the gender equality education referendum proposal received more than 450,000, Miao said.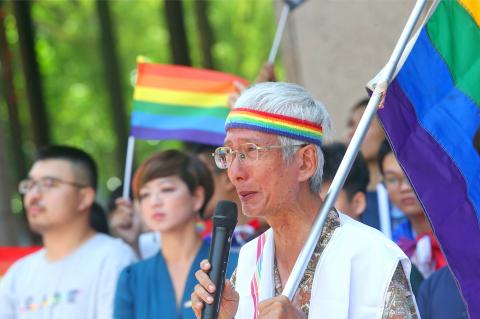 Veteran gay rights advocate Chi Chia-wei speaks at a news conference in Taipei yesterday.
Photo: CNA
However, due to time constraints, the group was only able to submit 500,000 and 400,000 signatures respectively, Miao added.
The referendum questions would be the greatest challenge ever for Taiwan's same-sex movement, SDP member and Marriage Equality Platform convener Jennifer Lu (呂欣潔) said.
They would need at least 5 million to 7 million votes each to pass, Lu said.
"We hope to advance Taiwanese democratic values and allow those who love each other to form their own families, but we do not want the referendums to become a war between different sectors of society," Lu said.
"We call on supporters to try to persuade their friends and family in the remaining 81 days until the election," Lu said.
"Let us prove our worth and value, and choose what future for Taiwan we want with our votes in the referendum," Lu added.
Veteran gay rights advocate Chi Chia-wei (祁家威) voiced support for the proposals, saying that they were short at least 220,000 signatures because of those who have committed suicide due to discrimination against the LGBT community.
Anti-LGBT referendum questions are "sugar-coated poison," Chi said, adding the language of the questions is paradoxical.
The Happiness of the Next Generation Alliance anti-same-sex marriage group on Tuesday last week submitted three referendum proposals to the commission after collecting more than 600,000 signatures for each.
The three referendum proposals, if passed, would ask voters if the definition of marriage should be restricted to a union between a man and a woman; if same-sex education should be confined to high-school levels and beyond; and whether the right of same-sex couples to live together should be protected through ways that do not require amending the Civil Code.
Comments will be moderated. Keep comments relevant to the article. Remarks containing abusive and obscene language, personal attacks of any kind or promotion will be removed and the user banned. Final decision will be at the discretion of the Taipei Times.