Photographer Chen Kuan-chi exhibited year after crash
A year and three months after a helicopter crash killed Chen Kuan-chi (陳冠齊), his sister and family are ending a time of mourning with an exhibition, which opened yesterday, to remember him for who he was, not simply as the photography assistant of film director Chi Po-lin (齊柏林), who was also killed in the crash.
Presenting a tattoo on her arm — a stem of a Hong Kong orchid with a rainbow radiating from the stalk beside a Canon digital single-lens reflex camera — Chen Ying-ju (陳映汝) said it was a tribute to her late brother.
She said Chen Kuan-chi was in the same helicopter as Chi on June 10 last year, shooting footage for Beyond Beauty — Taiwan From Above 2 (看見台灣2), when it crashed.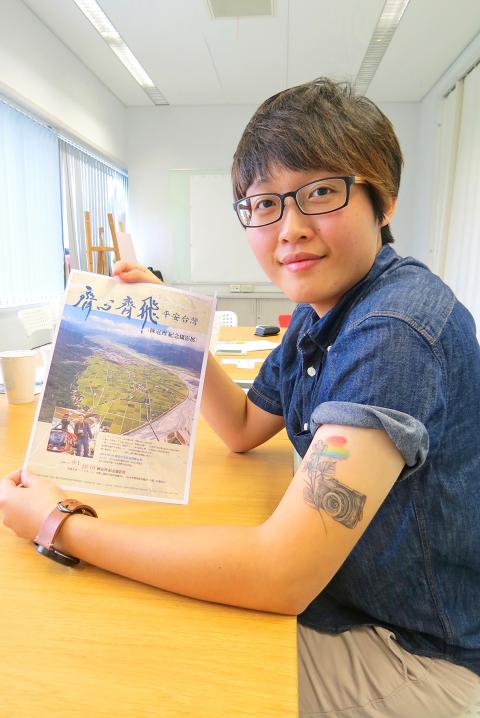 Chen Ying-ju on Thursday in Taichung holds up a leaflet announcing an exhibition of photographs by her late brother, Chen Kuan-chi, and shows a tattoo on her arm of his most frequently used camera.
Photo: Su Meng-chuan, Taipei Times
"My brother displayed a sense of justice since his high-school days," Chen Ying-ju said, adding that he was "someone who loved Taiwan, but often criticized instances of injustice."
Since his passing, Chen Ying-ju has met many of her brother's friends, and going through his personal effects helped her see him in a new light.
"It was like getting to know him all over again," Chen Ying-ju said.
An avid photographer, Chen Kuan-chi had amassed a large collection of photographs, and his sister said that going through them allowed her to see Taiwan from a completely new point of view, one unique to her brother.
"They showed a beautiful world," she said of the photos.
His family would forever think of him, and she got the tattoo for the same reason, she said.
Her brother treated his family better than he did himself, Chen Ying-ju said, adding that he never hesitated to buy expensive tea for his grandfather or medication for his grandmother.
However, he did not like to spend on himself, always buying NT$100 shirts and going to the cheapest barber shops, she said.
"We remember when he was accepted by Chi as his assistant," she said, adding that her brother's eyes were bright with joy.
The International Non-governmental Organization (NGO) Center in Taichung helped to arrange the exhibition, Chen Ying-ju said.
"We hope the exhibition would help him become known as Chen Kuan-chi, a photographer who loved Taiwan, and not just as the assistant who died with Chi," Chen Ying-ju said.
The exhibition runs through Oct. 10 at the International NGO Center in Wufeng District (霧峰), Taichung.
Comments will be moderated. Keep comments relevant to the article. Remarks containing abusive and obscene language, personal attacks of any kind or promotion will be removed and the user banned. Final decision will be at the discretion of the Taipei Times.