Groups urge sanctions for Chinese ID card applicants
The Taiwan Association of University Professors (TAUP) yesterday called for more government measures to counter Beijing's move to offer residency permit cards to Taiwanese in China, which it said could have serious consequences for Taiwanese on a personal and national level.
The Chinese State Council Information Office on Aug. 16 announced that, starting tomorrow, Taiwanese, Hong Kongers and Macanese who have lived in China for more than six months and are legally working, living or studying in the country would be eligible to apply for a residence card.
Card holders would be granted certain rights and benefits enjoyed by Chinese citizens, such as compulsory education, social insurance and housing subsidies.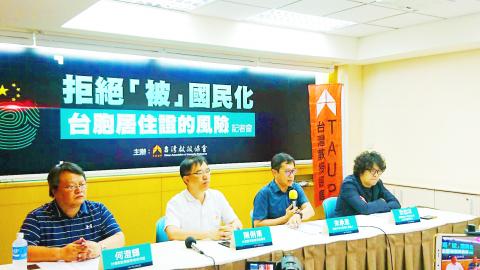 Members of the Taiwan Association of University Professors hold a news conference in Taipei yesterday, calling for more active measures to counter Beijing's move to offer residence permits to Taiwanese in China.
Photo: Chung Li-hua, Taipei Times
While the benefits might be attractive, the risks are unclear and the cards could have far-reaching consequences, Taiwan Association for Strategic Simulation (TASS) researcher Ho Cheng-hui (何澄輝) yesterday told a news conference in Taipei, adding that the policy is "another stick and carrot move designed to undermine Taiwan's national status by treating it as a special administrative region."
As examples of the risks involved, he said that residents who apply for their cards could be required to provide their fingerprints and other personal information to the Chinese government and subject themselves to Chinese tax laws.
Given Beijing's attitude toward Taiwan, the two are unlikely to reach any tax agreements and Taiwanese residents in China could end up being taxed on both sides, he said.
Once the line between Taiwan and China begins to blur, Taiwanese could also become excluded from opportunities for technological exchanges and business cooperations with countries like the US, as more countries around the world are stepping up measures against Chinese economic espionage, he added.
Moreover, those who apply would be subject to China's authoritarian laws banning free speech and other basic human rights, said Raymond Sung (宋承恩), a doctoral student at Oxford University.
"By applying for the permit, Taiwanese agree to Beijing's political rule, which implies an obligation to help bring about unification and not support Taiwanese independence, and to obey Chinese laws restricting freedom of speech and other political rights," he said.
The issue is further complicated by the uncertainty about the Taiwanese government's role in legal disputes concerning the rights of Taiwanese residents in China, as it would be unclear whether they can still be considered Republic of China citizens, he added.
With the policy only days away from being implemented, the Taiwanese government must take action to reduce its effect, TAUP deputy secretary-general Chen Li-fu (陳俐甫) said.
As a countermeasure, he proposed redesignating Chinese residents in Taiwan as "Chinese," rather than "mainland," on official documents to enhance the distinction between Taiwanese and Chinese.
"That would not be to cut back official protection of their human rights, but to make it clearer that they are not citizens, as Beijing tries to blur that distinction," he said.
Sung also said that household registrations of Taiwanese who apply for the permit should be canceled according to Article 9-1 of the Act Governing Relations between the People of the Taiwan Area and the Mainland Area (臺灣地區與大陸地區人民關係條例).
Removing a person's household registration strips them of National Health Insurance coverage, but not their citizenship, he said, adding that people could reapply for a household registration.
Comments will be moderated. Keep comments relevant to the article. Remarks containing abusive and obscene language, personal attacks of any kind or promotion will be removed and the user banned. Final decision will be at the discretion of the Taipei Times.