SDP calls for end to election deposits
Social Democratic Party (SDP) Convener Fan Yun (范雲) yesterday said she would file for a constitutional interpretation after the Taipei City Election Commission rejected her application to run for Taipei mayor on the grounds that she refused to pay an election deposit of NT$2 million (US$65,123).
"The rule about election deposits clearly contravenes Article 7 and Article 129 of the Constitution, which guarantees people's equal right to stand for election," she told a news conference outside the Taipei City Election Commission.
The news conference came a week after she announced on Facebook that she would withdraw from the race, citing difficulty meeting the deposit requirement.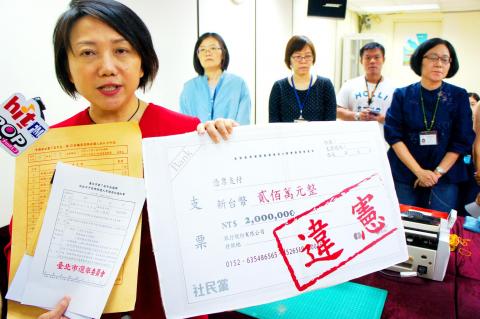 Social Democratic Party Convener Fan Yun in Taipei yesterday holds up a mock-up check for NT$2 million as she announces her intention to file for a constitutional interpretation of election deposits for candidates.
Photo: Huang Chien-hao, Taipei Times
A deposit of NT$200,000 is required to run for mayor or county commissioner, but it is NT$2 million if the city is a special municipality.
"The rule has made the right to stand for election a privilege of the rich, preventing the young, the poor and minor parties from participating in politics," she said.
Refusing to pay the deposit and filing for a constitutional interpretation over its legality will be a first step to reforming the nation's money-driven political system, she said, adding that she hoped more people would join the conversation about more reasonable election requirements.
"In Taiwan, mayoral candidates are not required to have an IQ score of at least 157, a doctorate, or work experience as a city councilor or legislator. We do not ask what their platforms are — we only ask whether they have NT$2 million," said Chen Yu-hsin (陳又新), a lawyer and SDP Taipei city councilor candidate for Neihu (內湖) and Nangang (南港) districts.
"Does having NT$2 million guarantee that a person can be a good mayor? If it is undemocratic to ban someone from standing for election based on their intelligence, diploma or experience, why is it acceptable to do so based on how wealthy they are?" Chen asked.
Minor parties and independent politicians are important to maintain the quality of democracy, as they prevent major parties from dominating the government, said Su Yen-tu (蘇彥圖), an Academia Sinica associate research fellow, urging people to back reform of the political system regardless of whether they support the SDP.
Recent examples of countries reforming their deposit requirements include Canada, he said, adding that a Canadian court in October last year ruled that a deposit requirement for prospective candidates in federal elections contravened the nation's constitution.
Tamkang University professor Kurt Tu (涂予尹) said Taiwan should learn from the experience of other systems that offer alternatives to paying a deposit.
In California, prospective candidates for state governor have the option of submitting a minimum of 7,000 valid signatures instead of a deposit, he said.
"The only reason that the Central Election Commission set the deposit requirement at NT$2 million this year is because that has always been the rule," he added.
Comments will be moderated. Keep comments relevant to the article. Remarks containing abusive and obscene language, personal attacks of any kind or promotion will be removed and the user banned. Final decision will be at the discretion of the Taipei Times.