LGBT rights groups launch counter-campaign
Democratic Progressive Party (DPP) and New Power Party (NPP) lawmakers along with a coalition of LGBT rights groups yesterday urged people to vote "no" to three referendums on homosexuality that are expected to be held on Nov. 24 alongside the nine-in-one elections.
The Happiness of the Next Generation Alliance on Tuesday submitted three referendum proposals to the Central Election Commission after having collected more than 600,000 signatures for each.
The proposals ask: "Do you agree that marriage should be strictly defined as between a man and a woman in the Civil Code?"; "Do you agree that the right of same-sex couples to live together should be protected through ways that do not require amending the Civil Code?"; and "Do you agree that provisions in the Enforcement Rules for Gender Equity Education Act (性別平等教育法施行細則) concerning homosexuality education should not be implemented at the elementary and junior-high-school levels?"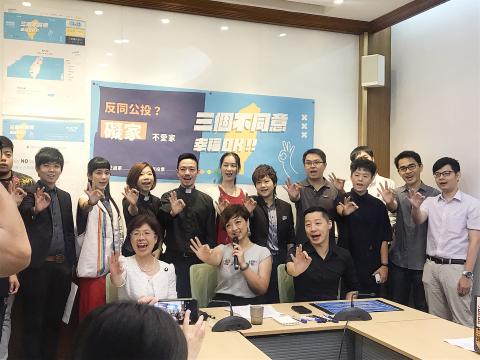 Democratic Progressive Party Legislator Yu Mei-nu, front left, New Power Party Legislator Freddy Lim, front right, and LGBT advocates yesterday attend a news conference in Taipei to condemn three proposed anti-LGBT referendums.
Photo: Su Fang-he, Taipei Times
While the alliance said that the proposals are meant to safeguard family values, LGBT rights advocates yesterday called them "anti-LGBT campaigns launched under the disguise of love for families" and initiated a counter-campaign.
The goal is to have at least 7 million people vote against them by urging each supporter to convince seven people to vote "no," Marriage Equality Platform convener Jennifer Lu (呂欣潔) told a news conference in Taipei.
The platform, a coalition of LGBT rights groups, is on Sept. 10 to launch a Web site with information about the referendums, and send text and e-mail reminders to its members on election day, Lu added.
"The alliance's referendum proposals are not only against education on gender equality and homosexuality, but could set a bad precedent regarding the constitutionally protected right to marriage equality," DPP Legislator Yu Mei-nu (尤美女) said.
If homosexuality cannot be taught in schools, bullying based on gender and sexuality would become worse, she said, adding that everyone has a right to love and form their own family.
Same-sex couples should have the right to choose whether to get married, just as heterosexual couples do, NPP Legislator Freddy Lim (林昶佐) said.
"The referendum proposals worry me, because they are based on hatred and contempt for people who are different. They do not want others to enjoy the same happiness as they do. It is a terrible and a dangerous way of looking at the world," Lim said, urging people to vote against them.
As of yesterday morning, 56 groups and more than 50 city and county councilors had joined the platform's counter-campaign, Lu said.
For a referendum to pass, at least a quarter of the nation's eligible voters must cast an affirmative vote, with the "yes" votes outnumbering the "no" votes.
Comments will be moderated. Keep comments relevant to the article. Remarks containing abusive and obscene language, personal attacks of any kind or promotion will be removed and the user banned. Final decision will be at the discretion of the Taipei Times.