KMT delivers signatures for petitions
REFERENDUMS AWAIT: The KMT's Hau Lung-bin said the DPP's disregard for public health forced people to act and even supporters of the government had signed
The Chinese Nationalist Party (KMT) yesterday delivered more than 1.45 million signatures for three referendum proposals it has launched, saying the support it received was proof of public grievance against the Democratic Progressive Party (DPP) administration.
A proposal to promulgate air pollution regulations received 496,444 signatures, while a proposal calling for a halt to the construction of a coal power plant in New Taipei City's Rueifang District (瑞芳) was backed by 482,507 signatures, KMT Vice Chairman Tseng Yung-chuan (曾永權) told a news conference in Taipei.
A proposed referendum to maintain a ban on food products from five Japanese prefectures that was imposed after the 2011 Fukushima Dai-ichi nuclear disaster obtained 478,015 signatures, Tseng said.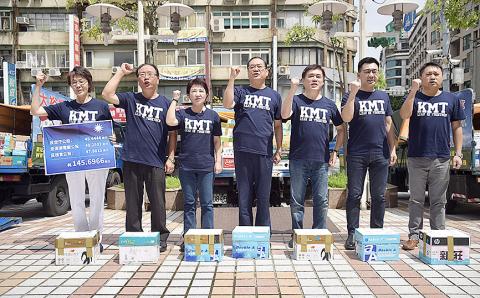 Chinese Nationalist Party (KMT) vice chairmen Tseng Yung-chuan, center, and Hau Lung-bin, third right, and other party members stand behind boxes of referendum signatures in Taipei yesterday.
Photo: CNA
All three garnered signatures far surpassing the threshold of 281,745 — 1.5 percent of the eligible voters in the most recent presidential election — for a referendum proposal to pass the second-stage threshold and be put to voters, he said.
"All three proposals concern matters of people's livelihoods and transcend the traditional blue-green political divide," said KMT Vice Chairman Hau Lung-bin (郝龍斌), who initiated the proposal to maintain the import ban.
It was the DPP administration's disregard of public health that forced people to resort to referendums to protect themselves, Hau said, adding that there were also DPP supporters who backed his signature drive.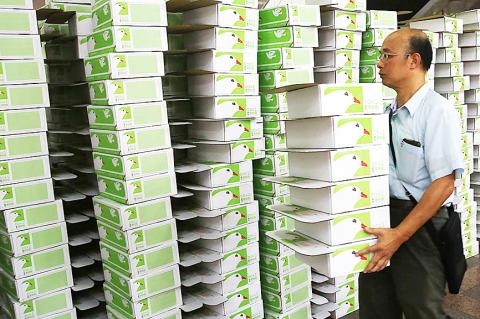 A Central Election Commission worker carries boxes of referendum signatures delivered by the Chinese Nationalist Party (KMT) in Taipei yesterday.
Photo: CNA
KMT caucus whip Johnny Chiang (江啟臣), who is also director of the party's Central Policy Committee, said the strong support received by the three drives underscored the public's desire to live a better and healthier life.
The KMT hired four trucks to deliver the signatures to the Central Election Commission and sent staff members to watch over the signatures as the commission processed and calculated them.
According to the Referendum Act (公民投票法), the commission is required to finish examining the signatures within 30 days of receiving them and announce the establishment of the referendum within 10 days of determining that it has met the second-stage threshold.
The result of a referendum will be declared legitimate if 25 percent of eligible voters cast ballots and a majority votes in favor of it.
The Central Election Commission has said that proposals received by Friday have the best chance of being on ballots in the nine-in-one local elections on Nov. 24.
Comments will be moderated. Keep comments relevant to the article. Remarks containing abusive and obscene language, personal attacks of any kind or promotion will be removed and the user banned. Final decision will be at the discretion of the Taipei Times.