Ko evasive about new political party rumors
Taipei Mayor Ko Wen-je (柯文哲) yesterday declined to comment on rumors that he is planning to form a new political party when asked to about the subject during an announcement for the establishment of the Huang Hsin-chieh Memorial Plaza in Taipei.
Huang Hsin-chieh (黃信介) was a former Democratic Progressive Party (DPP) chairman and democracy advocate who died in 1999 at the age of 71.
Huang selflessly devoted himself to fighting for democracy and human rights in Taiwan, gave up his wealth and privileged status, and was imprisoned for pursuing his dreams, Ko said.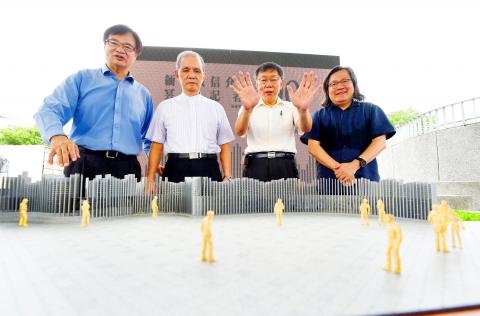 Taipei Mayor Ko Wen-je, second right, poses with other guests at a memorial ceremony marking the 90th birthday of former Democratic Progressive Party chairman Huang Hsin-chieh , who died on Nov. 30, 1999. Huang has been lauded as one of the godfathers of Taiwan's democratic reform movement.
Photo: Fang Pin-chao, Taipei Times
"Taipei was Huang Hsin-chieh's stage in history, and memories of him are important for many of the city's residents," Ko said.
Huang reflected many core Taiwanese values — embodying grassroots participation in politics, respecting justice, pursuing ideals and persistence, the mayor said.
National Policy Adviser to the President Huang Tien-fu (黃天福), Huang Hsin-chieh's younger brother, said Ko's temperament is similar to that of his brother, as both are straightforward, but take responsibility for their words.
Asked by reporters if he conforms to the Taiwanese values he described Huang Hsin-chieh as embodying, Ko said: "Everyone has their own Taiwanese values in their heart, and I believe in democracy, freedom, diversity and openness, meaning that we allow everyone in this land to pursue what they believe in; this is the greatest value in Taiwan."
"A significant characteristic of Huang Hsin-chieh was that he was practical," Ko said.
Huang Hsin-chieh was easy to get along with and had few political enemies or arguments with people, Ko said, adding that this is a goal that he is striving to achieve.
Asked about political pundit and DPP Taipei City Councilor Liang Wen-chieh's (梁文傑) remark that he is planning to form a political party, Ko said: "This is strange. Just like I never said I wanted to run for president ... I often read newspapers to find out what my strategies and personnel plans are, which is ridiculous."
Asked again to respond to the rumor, he said: "Does not denying a rumor mean confirming it? That is horrible."
Comments will be moderated. Keep comments relevant to the article. Remarks containing abusive and obscene language, personal attacks of any kind or promotion will be removed and the user banned. Final decision will be at the discretion of the Taipei Times.