Protest in Taipei to commemorate 'comfort women'
About 100 protesters from a coalition of non-governmental organizations yesterday protested outside the Japan-Taiwan Exchange Association in Taipei, demanding that the Japanese government apologize again to surviving Taiwanese "comfort women" and provide them with compensation.
About 2,000 Taiwanese women were estimated to have been forced into sexual slavery by the Imperial Japanese Army during World War II, and the Taipei Women's Rescue Foundation located 59 survivors after it set up a hotline in 1992, foundation chief executive Fan Ching (范情) said.
"Only two of them remain today and neither were able to attend this demonstration because of their advanced age," she said.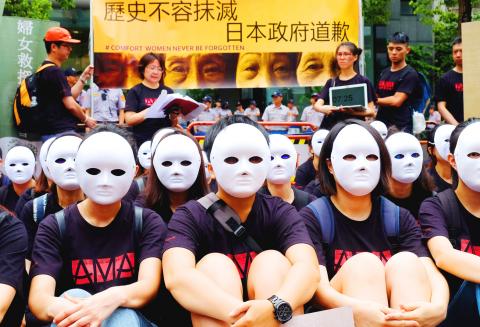 People wearing masks yesterday take part in a protest outside the Japan-Taiwan Exchange Association in Taipei to commemorate Taiwanese "comfort women."
Photo: Sam Yeh, AFP
Instead, 59 people clad in black and wearing white masks sat silently next to a paper wall printed with the names of the comfort women they represented.
As in its previous protests, the foundation demanded that Japan's prime minister apologize to the former comfort women on behalf of the Japanese government and provide them compensation.
It also urged the Japanese government to release all documents related to comfort women, initiate an investigation into their history and educate the public about sexual slavery.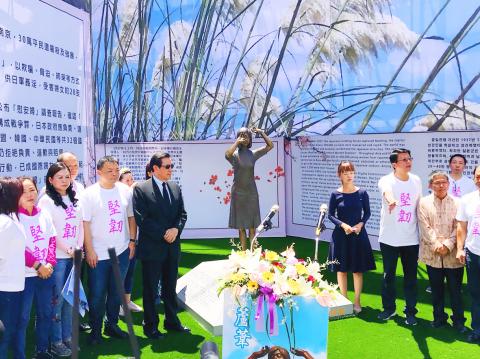 Former president Ma Ying-jeou, left in suit, attends yesterday's unveiling of a bronze statue honoring World War II-era "comfort women" in Tainan's West Central District.
Photo: CNA
"To better protect women's rights and prevent similar things from happening again, the history must be included in Japanese textbooks," Fan said, adding that until a Japanese prime minister apologizes, the foundation would its annual protests.
The Japanese government should build a museum commemorating the history of comfort women in Japan to educate the public about it, foundation chairwoman Huang Shu-ling (黃淑玲) said.
The foundation has repeatedly invited Japanese Prime Minister Shinzo Abe to visit the AMA Museum in Taipei's Datong District (大同), which it founded in 2016 to document the history of the comfort women, she said.
No Japanese official has ever visited it, but many Japanese tourists and journalists have, she said.
"Do not underestimate the power of this movement for comfort women. It is the power of women in Asia and around the world who are standing in solidarity to demand human rights," Huang said.
Over the past several decades, campaigns calling for justice for comfort women have evolved from a local movement to a global one, with the ultimate goal being to end sexual violence, she said.
"Although survivors age and pass away, the movement will not die, because their influence will continue to grow as more young people join in, bringing with them new momentum," she said.
In Tainan, the Chinese Nationalist Party's (KMT) Tainan chapter and the Tainan Association for Comfort Women's Rights yesterday unveiled the nation's first bronze statue of a comfort woman
At the ceremony, former president Ma Ying-jeou (馬英九) urged the Japanese government to formerly apologize to Taiwanese comfort women and provide compensation.
Aug. 14 has become a day to remember comfort women in Taiwan and South Korea because on Aug. 14, 1991, South Korean Kim Hak-sun became the first former comfort woman to give public testimony about her experience.
Additional reporting by Wang Chun-chung
Comments will be moderated. Keep comments relevant to the article. Remarks containing abusive and obscene language, personal attacks of any kind or promotion will be removed and the user banned. Final decision will be at the discretion of the Taipei Times.