Kinmen to downplay system launch
WATER SUPPLY: The Water Resources Agency said the contract does not require a commencement ceremony, which the MAC repeatedly asked to be postponed
A system to supply water to Kinmen from China's Fujian Province is to begin operations today with two simultaneous ceremonies, following a national security official's remarks yesterday that China is trying to split Taiwanese apart using carrot-and-stick tactics.
The Mainland Affairs Council (MAC) late last month asked the Kinmen County Government to delay its ceremony after Beijing pressured the East Asian Olympic Committee into revoking Taichung's right to host the first East Asian Youth Games next year.
The county government decided to hold the ceremony as scheduled, but said that it would tone down the event's political effects by downgrading it to a "ritual."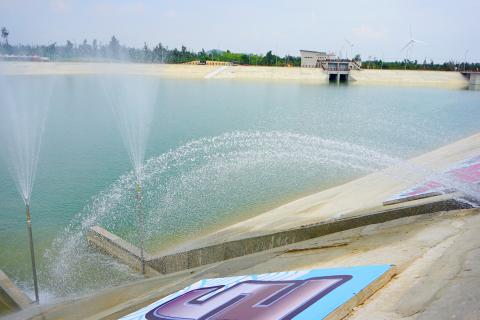 The Tienpu Reservoir is pictured in Kinmen yesterday.
Photo: CNA
While the central government does not plan to send any officials to the event, China's Taiwan Affairs Office Minister Liu Jieyi (劉結一) is reportedly planning to attend the counterpart ceremony in Fujian's Jinjiang, along with nearly 100 members of the Chinese media.
"Who needs a ceremony? Who needs propaganda? The answers to those questions are obvious," a national security official said yesterday on condition of anonymity, adding that China surely timed the ceremony to fit in with its strategy to restrict Taiwan's international space.
The ceremony is a good opportunity for Beijing to extend its goodwill to Taiwanese after it stripped Taichung of the right to host the Games, the official said.
Raising concern about Kinmen's increasing reliance on China, the official suggested that more national security measures be implemented in the county.
Separately, the Ministry of Economic Affairs' Water Resources Agency said in a statement on Friday that the water supply system is a commercial arrangement between Kinmen and Jinjiang, and that staging a ceremony would not affect its operations.
The project was approved by the Executive Yuan in 2014, the agency said, adding that its underwater pipelines cost NT$1.35 billion (US$43.97 million), 85 percent of which was provided by the central government, while the county government paid for the remainder.
The contract between Kinmen County Waterworks and Fujian Water Supply Co stipulates that the county would purchase water at NT$9.86 per cubic meter, but it does not say anything about a ceremony, the agency said.
The council said that it shares the same stance as the county government regarding the water supply system, but it cannot accept Beijing's "united front" tactics to split Taiwanese party.
To defend the nation's interests and dignity, the county government should still postpone the ceremony, given that it is not directly related to the water supply, it added.
Comments will be moderated. Keep comments relevant to the article. Remarks containing abusive and obscene language, personal attacks of any kind or promotion will be removed and the user banned. Final decision will be at the discretion of the Taipei Times.