Ko launches crowdfunding site for re-election
Taipei Mayor Ko Wen-je (柯文哲) yesterday launched a crowdfunding Web site for his re-election campaign, with a first-phase goal of raising about NT$13.1 million (US$427,657).
The Web site — called "Keep It Possible" (改變成真,持續發生) — offers four funding options ranging from NT$500 to more than NT$2,000 and include Ko-themed merchandise, including a T-shirt, a tote bag, stickers of Ko's famous remarks and "Keep It Possible" stickers and pins.
In the first-phase NT$3.2 million, or 24 percent, would be used to produce merchandise; NT$5.9 million, or 45 percent, would be spent on administrative performance advertisements; NT$2.7 million, or 21 percent, would go to campaign events; and NT$1.3 million, or 10 percent, would be used to set up campaign offices, Ko's election campaign team said.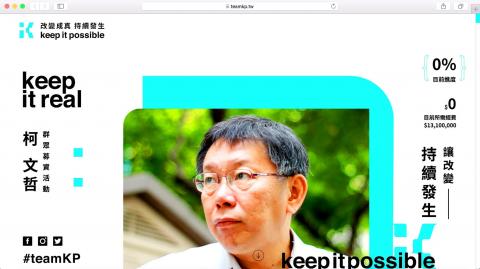 Taipei Mayor Ko Wen-je's fundraising Web site for his re-election campaign is pictured after the site was launched yesterday.
Screengrab from Ko's fundraising Web site
"I never understood why young people who have the most passion often have the lowest voter turnout rate, and then I realized that it was because, although they are passionate, they cannot find someone with whom they identify, so why should they vote?" Ko says in a short video on the Web site.
Ko said that he attracted so many young voters in 2014 because he did not erect campaign flags, stopped fundraising as soon as funding goals were met and disclosed accounting information, allowing them to believe in a new election culture.
The political culture of spending enormous amounts of money on election campaigns is one of the main causes of political corruption, because it not only excludes people with less money from running in elections, but those who have enough money often receive donations from private companies, making it hard for them to implement fair and just policies after they are elected, he said.
An NT$20 million bank loan using his home as collateral is to mainly be spent on staff and miscellaneous expenditures, Ko said, adding that it would be paid back by an election subsidy of NT$30 per vote.
The cost of election campaign events and advertising would be covered through crowdfunding, so supporters know what their funds are used for, he said.
Comments will be moderated. Keep comments relevant to the article. Remarks containing abusive and obscene language, personal attacks of any kind or promotion will be removed and the user banned. Final decision will be at the discretion of the Taipei Times.