Justice minister to review policy on death sentencing
Minister of Justice Tsai Ching-hsiang (蔡清祥), who was sworn into office yesterday, refused to give definitive comments about whether the ministry would lift an unofficial suspension on carrying out death sentences.
Tsai said he has been in office for less than a day and needs to thoroughly consider the facts and weigh public opinion carefully before making a decision.
Tsai said his experience as Investigation Bureau director-general gives him a greater understanding of the proper integration of criminal investigation and prosecution.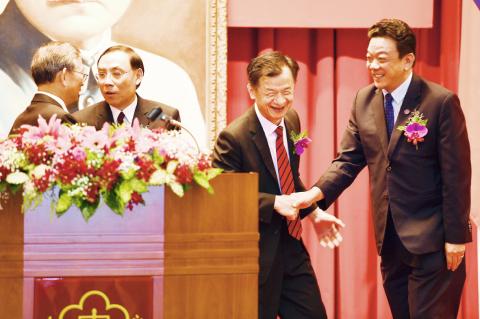 Outgoing minister of justice Chiu Tai-san, second right, smiles as his successor, Minister of Justice Tsai Ching-hsiang, second left, prepares to deliver a speech at a swearing-in ceremony in Taipei yesterday.
Photo: George Tsorng, Taipei Times
He is the first person to move from the bureau position to minister of justice.
At his swearing-in ceremony, Tsai said he hopes members of the ministry will be motivated in their work by idealism, a sense of mission and passion.
The five subordinate services of prosecutors, investigators, anti-corruption officers, administrative enforcement agents and corrections officers must coordinate their actions and resources in the war on crime, drugs, telecom fraud and electoral fraud, he said.
Separately yesterday, Minister of the Interior Hsu Kuo-yung (徐國勇) said his appointment to the post is not related to the nine-in-one elections in November.
The Ministry of the Interior is to focus on the tasks of urban renewal and social housing, as well as narcotics enforcement and public safety, to ensure an orderly and safe society, Hsu said.
"I come to the ministry on my own because I feel total confidence in the people of this ministry and have no need to bring staff," he said.
Elsewhere, Agriculture and Food Agency Director-General Hu Zhong-yi (胡忠一) vowed to balance the production and sale of domestic crops and increase collaboration with farmers' groups.
As the agency has been plagued by plunging prices due to oversupply, balancing crop production and supply is expected to be a challenge.
At the handover ceremony at the agency's main office in Nantou County's Jhongsing New Village (中興新村), Hu said he would promote new agriculture models and turn domestic agriculture into "a technological, secure, profitable and sustainable industry."
Hu presented eight plans to boost the competitiveness of domestic agriculture, including improving information systems for crop supply and demand; reviewing the nation's tariff quotas for crops; seeking diverse ways to process crops; and setting up more cooling and logistics systems to reduce the loss of crops during delivery.
Also, he plans to help farmers replace less competitive crops or ones in oversupply with others; encourage more farmers to adopt organic and eco-friendly farming and join the council's traceability agricultural product system; establish a strategic alliance among the agency, local farmers' groups and other marketing channels; and adjust the market structure of agricultural products.
Comments will be moderated. Keep comments relevant to the article. Remarks containing abusive and obscene language, personal attacks of any kind or promotion will be removed and the user banned. Final decision will be at the discretion of the Taipei Times.