Mudflows surround new AIT complex during typhoon
The American Institute in Taiwan's (AIT) new compound in Taipei's Neihu District (內湖) was affected by mudflows yesterday as Typhoon Maria swept through northern Taiwan, but the facility did not sustain any damage, AIT spokeswoman Amanda Mansour said.
The compound was surrounded by mudflow streams in the morning, when the typhoon was moving in a west-northwest direction, packing sustained winds of 108kph and gusts of up to 137kph.
The Central Weather Bureau lifted sea and land warnings at 2:30pm yesterday, after the typhoon made landfall in China's Fujian Province.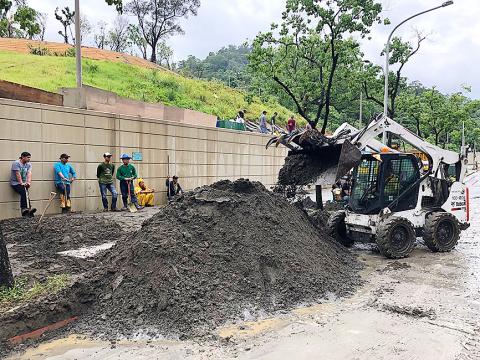 Workers from the Taipei City Government's Department of Environmental Protection yesterday clean up the area around the American Institute in Taiwan compound in the city's Neihu District.
Photo: CNA
"We are aware of reports about issues at the new office compound caused by last night's storm. The construction team is currently addressing the storm's impacts on our grounds, which were relatively minor," Mansour said.
The new facility, which cost the US government US$255.6 million and took nine years to complete, is built on a hill on Jinlong Road and covers 6.5 hectares.
Officially unveiled in a closely watched dedication ceremony on June 12, the new compound is the first purpose-built facility by a foreign representative office in Taiwan and has been praised as an important milestone in Taiwan-US ties.
Despite the compound's completion, the AIT is not to move its offices until later in the summer.
Outgoing AIT Director Kin Moy, who is to leave his post later this week, has said that the move is likely to happen sometime near the US Labor Day holiday, the first Monday in September.
The AIT, which was established in 1979 after Washington severed ties with Taipei, serves as the US' de facto embassy in Taiwan in the absence of formal diplomatic ties.
Comments will be moderated. Keep comments relevant to the article. Remarks containing abusive and obscene language, personal attacks of any kind or promotion will be removed and the user banned. Final decision will be at the discretion of the Taipei Times.